MACHINE HEAD NEWS!
August 17, 2017, posted by Crumbs.
TakeMyScars.com celebrates 10 years today!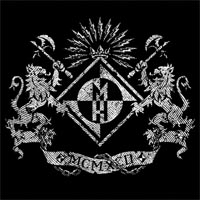 On August 17th, 2007, TakeMyScars.com was launched. It was a fansite for the mighty San Francisco Bay Area metal titans Machine Head. The focus was Machine Head news and information about live shows, new and old.

It took two days before I recieved the first mail to the website. It was Robb Flynn. He liked the site and invited me to the next Machine Head show that was "in my area" and the closest one happened to be during "The Black Crusade" tour in Stockholm, Sweden on December 11th later that year.

I've been invited to many, many shows after that and even to Jingle Town Studios in Oakland, CA during the recording of Bloodstone & Diamonds. I can now call the Machine Head camp my friends.

Here is a small collection of news, shows and other stuff that has happened over the last 10 years.

- TakeMyScars.com launch
- First show - Stockholm, Sweden on December 11th, 2007
- Supporting Metallica in Stockolm, Sweden, March 7th, 2009
- Robb sends a mail explaining where the first MH-shows happend.
- The tour premiere of "Unto the Locust" in Oslo, November 1st, 2011
- Hangning with Machine Head the whole weekend in Gothenburg after the final show of Killer & Kings-tour. Here's a long write-up with pictures of the whole weekend.
- Visiting the Jingle Town Studios during the recording of "Bloodstone & Diamonds". YouTube-clip.
- Got to travel with Machine Head on the bus for a week during the "An Evening With Machine Head"-tour in Croatia, Serbia, Romania and Bulgaria - September 2015. Epic!!!
- First German show: Feb 27th, 2016
- First UK-show: March 11th, 2016

Last but not the least. Thank YOU!!! All Machine Head fans, visitors on the site, in the forums and on Facebook and especially to you who have contributed to the site with setlists, videos, pictures and other stuff.

So what happens now?! Should we do another 10 years?
Yeah, why not. Let's do it.

Cheers headcases!

/Ulf "Crumbs" Kristensson


Source: TakeMyScars.com
TakeMyScars.com - A Place Dedicated to the Mighty Machine Head!