MACHINE HEAD NEWS!
November 6, 2011, posted by Crumbs.
Robb Flynn Talks About The First Machine Head Shows Back In 1992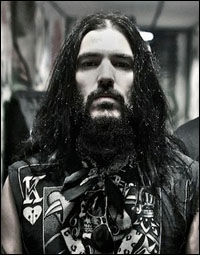 I recieved an e-mail from Robb Flynn where he shares some information about the first Machine Head shows back in 1992:

Robb Flynn:
BTW, was checking out your tour page, in 1992 we actually did 5 shows, and the actual first public show for MH was not Mayday Malone's, that was Chris's first show, MH's first show was at The Huntridge Theater in Las Vegas with Tony Costanza on drums. I think Area 51 opened, and some punk band that had something to do with Tony's old band Papsmear. I want to say it was late Aug early Sept.

We also did the LA Metal Fest at Gazzari's in Hollywood with Tony on drums and either my amp or my guitar got stolen. We played twice, and convinced Biohazard to play at the last minute, where we then sweet talked the promoter to let play again for those guys, there was about 50 people there, but for our 2nd show Dino cazares and Igor Cabalera also showed up. Chris Kontos did lights for us, and it would be Tony's last show as Chris effectively talked his way into the band, much to Tony's dismay, LOL.

Thank you so much for sharing that information. Kick-ass!


Source: TakeMyScars.com
TakeMyScars.com - A Place Dedicated to the Mighty Machine Head!