MACHINE HEAD NEWS!
April 6, 2014, posted by Crumbs
Video from TakeMyScars.com in Jingle Town Studios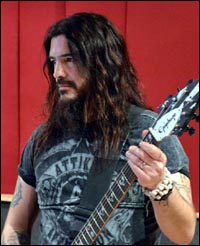 Here's a video from TakeMyScars.coms trip over to North America to visit Machine Head while recordning their yet untitled 8th studio album in Jingle Town Studios in Oakland just outside of San Francisco, CA.

We were invited on March 25th and were there for a couple of hours when Robb Flynn tracked gutiars and Jared MacEachern tracked bass. Dave McClain was in the studio but was only practising since he change his drum setup from a "super flat" setup to a more regular setup. Dave talks in the clip about why he has changed it. Enjoy!


Full HD

TakeMyScars.com - A Place Dedicated to the Mighty Machine Head!