MACHINE HEAD NEWS!
February 3, 2011, posted by Crumbs.
Video: Dave McClain Talks About Joining the Rockstar Mayhem Festival Again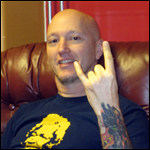 Machine Head drummer Dave McClain checks in and talks about how Machine HEad feels about joining the Rockstar Energy Drink Mayhem Festival tour this summer.








Source: Mayhemfest.com
TakeMyScars.com - A Place Dedicated to the Mighty Machine Head!