MACHINE HEAD NEWS!
October 4, 2011, posted by Crumbs.
Unto the Locust Reviews Are Dropping In **UPDATED**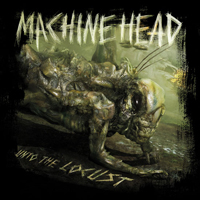 Here's a collection of "Unto the Locust" reviews from around the world. If you find a review that's not listed here, please drop a e-mail and let me know and I'll add it to this page. Please use the contact form.


** NEW REVIEWS **
Revolver Magazine [4,5/5]
Unto the Locust isn't just a great album, it's an important statement that metal doesn't have to fall into trite categories or draw from pre-existing formulas to be accessible. Machine Head have made their new masterpiece.

Blabbermouth [9/10]
I have little doubt that MACHINE HEAD fans will dissect and over-analyze every note played on this album. They're wasting their time. "Unto The Locust" can be summarized in one word: badass.


** PREVIOUSLY POSTED REVIEWS **
MetalHammer.co.uk [10/10]
Cherish 'Unto The Locust': you'll be living with it for a long time. There appears to be no end to Machine Head's inspiration at this point: God only knows what they'll come up with next.

MetalAssault.com [10/10]
I would suggest you to not waste any more time and pre-order this album right now, or go pick it up as soon as it hits your nearest record store. Even a 10 out of 10 is not a high enough rating for this one. Album of the year, without a doubt.

MetalHammer.de [7/7] (German)

Craveonline.com [8.5/10]
The final song, "Who We Are" has elements of The Wall era Pink Floyd in it's military opening before sliding into a gallop riff that will have the moshers moshing and the headbangers banging. There's even a sing along chorus, which is always a thing of beauty and creepy singing children, always a plus.

Festivalphoto.se [5/5] (Swedish)

Pwrup.de [Full marks] (German)

Examiner.com [9/10]
Machine Head have succeeded in producing not only a quality metal album, but in creating music that will satisfy their die-hard fans and their high expectations while blowing away prospective new fans with it's diversity and professional feel.

Sludgefactory.com.au [9/10]
They have definitely gotten back in touch with what metal is all about but at the same time they know how to mix in some melody and catchy hooks without making the music suffer for it. Unto the Locust is truly MACHINE HEAD's finest hour.

Theprp.com
Now, on the eve of the release of Unto the Locust, by far the most daring and complex album Machine Head have ever created, we await an album written by true music fans for true music fans. Not the mainstream pop world, or an internet hit here-today-gone-later-today world that seems so confusingly prevalent.

Spiegel.de [8.5/10] (German)

l-iz.de [8.5/10] (German)

Burning-river.net [8.5/10]
Unto The Locust has pretty much greatly surpassed my expectations. Machine Head have cemented them selves as true Heavy Metal legends, and probably the best metal band out there right now, bar none.

Tapetotape.co.uk [4/5]
A real, unadulterated metal album without an ounce of image or commercial aspiration to motivate it, it's a genuinely satisfying and refined listen from a band that deserves all the plaudits they get.

Metal4bremen.de [9,5/10]

Metal-online.com (German)

Stormbringer.at [4,5/5] (German)

Metalcentral.net [8/10] (Swedish)

Getmetal.com [5/5] (Swedish)

Noise Shaft [7,5/10]
Machine Head unleashes the ancient, stone-authentic groove lingo of Pantera, igniting its tremendous engines to bring you valiantly varied groove metal which though is in a relentless hurry to seek the catchy chorus in the vicinity as an extra service to the ears.


Source: Various sources
TakeMyScars.com - A Place Dedicated to the Mighty Machine Head!