MACHINE HEAD NEWS!
February 27, 2014, posted by Crumbs.
The General Journals: Day 17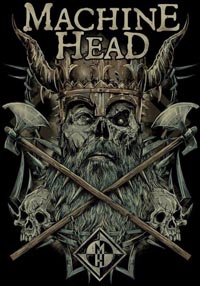 Just a quick update for y'all:

We've been working on guitar tracks for a few days now with "Killers & Kings" nearly finished on guitar. Had a few mishaps with our new Randall amp which we had been using for a 2nd guitar track. We fixed the amp, then fixed it again, then fixed it AGAIN. And now were giving up on it.

Because of this I have to re-track a little, but glad it's early in the recording, rather than half way thru.

From here on out it will be my old 5150 from "Bubba" and my newer 6505 all the way! We're talking double tracking 'til that shit is devastatingly tight!! So far it sounds b-r-u-t-a-l.

We laid down some scratch vocal tracks yesterday, did a vocal microphone "shoot-out" and got all both Jared and my mics picked out for singing.

Next week, we're going to upload the first of several "Production Blogs" to our YouTube page. They will focus heavily on the "production" side of the recording process. This being the 4th Machine Head album-in-a-row that I've produced (not including RR United and the Rammstein remix), I've been able to build a really great team of guys around me. This team greatly enhances the entire production process and I think this is a cool way to introduce you all to them and the roles they play.

The blogs themselves will all be a little behind the curve of the actual recordings, as it takes a while for our video dude Scott "Gravy Legs" Kirkeeng to edit them, but I think for some of you it will be an interesting, enjoyable journey of behind the scenes of recording.

For some of you though, it'll probably be boring as fuck! So I'm giving you an early warning right now. *WARNING* If microphone placement, and studio tech talk are as exciting to you as say, "watching paint dry," feel free to ignore these and log back in to your normal interporn.com site!! There will very little "band" footage, (people tracking etc...), that's been done to death at this point, so were trying to show you something different.

Again, it will focus on a whole other side of making a record, and the people who help guide it to fruition.

First one [coming next week] will tackle the Machine Head "demoing" process.

'Til then, I'll just keep tracking the metal!!

Subscribe to The General Journals: Diary Of A Frontman... And Other Ramblings
http://thegeneraljournals.hosted.phplist.com/lists/?p=subscribe

Visit The General Journals archive:
http://machinehead1.com/topics/diary


Source: Machine Head Facebook
TakeMyScars.com - A Place Dedicated to the Mighty Machine Head!