MACHINE HEAD NEWS!
November 1, 2011, posted by FotherMucker99.
The Eighth Plague Tour Oslo style part 13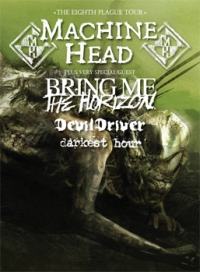 This Oslo crowd is headbanging to the monster that is Ten Ton Hammer, son!


Ozzy Osbourne - Diary Of A Madman (intro) (PA)
I Am Hell (Sonata in C#)
Be Still And Know
Imperium
Beautiful Mourning
The Blood, The Sweat, The Tears
Locust
This Is The End
Aesthetics Of Hate
Old
Darkness Within
Bulldozer
Ten Ton Hammer


Source: TakeMyScars.com
TakeMyScars.com - A Place Dedicated to the Mighty Machine Head!