MACHINE HEAD NEWS!
November 14, 2014, posted by Crumbs
Some Bloodstone & Diamonds Reviews! *UPDATED*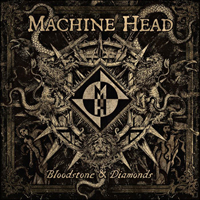 Here's a collection of "Bloodstone & Diamonds" reviews from around the world. If you find a review that's not listed here, please drop a e-mail and let me know and I'll add it to this page. Please use the contact form.


Without Remorse Webzine
Although arguably at one of the highest points of their career, "Bloodstone & Diamonds" has somewhat of an "end of the road" vibe to it with songs like "Sail Into The Black" and "Damage Inside" both sounding like they were lifted from Charon's "work" playlist. This stripped back, almost Gothic vibe is somewhat new to the band with Flynn's none metal influences such as The Cure shining through here, allowing a whole other dimension of heavy to be brought to the album.


Sea of Tranquility - 4,5 / 5
"In Comes The Flood" and "Game Over" are two more excellent tracks that will have you eagerly pushing up the volume, "Imaginal Cells" is an instrumental incorporating spoken words in a similar way to the song "Real eyes, Realize, Real lies" off their debut. Machine Head end on a high thanks to the robust metal of "Take Me Through The Fire" easily one of the catchiest songs on Bloodstone & Diamonds.


Sonicabuse.com
However, 'bloodstones and diamonds' is Machine Head at their fiery best. Replete with innovative flourishes and powerful melodic hooks, it is a stunning debut for new label Nuclear blast and a wonderfully powerful record that wears its heart on its sleeve and delivers all the elegant power that Machine Head initially marshalled on 'the blackening'.


The Guardian - 5/5
Bloodstone & Diamonds sounds quite unlike anything else happening in metal right now – both a testament to Flynn's unique vision and a timely reminder that making heavy music that resonates on both visceral and emotional levels is not quite as straightforward as certain factions would have us believe.


Metalasfuck.net
Well, in short Bloodstone & Diamonds is one of the most relentlessly entertaining albums in Machine Head's history; Every song has something going for it, with particular highlights being the superb Night of Long Knives and the portentously epic In Comes the Flood.


Aftonbladet (Swedish) - 4/5


Kaaoszine.fi (Finnish) - 10/10


Stormbringer.at (German) - 4,5/5


TheMetalReview.com- 9/10
Next up is 'Night of the Long Knives', eerily building up with tom drums and Flynn shouting mixes blast beats and that classic 90's thrash groove. This is definitely a stand out track and needs to be a regular live song in their ever growing set list.


LoudMag.com.au- 95/100
'Beneath the Slit' drifts into uncommon ground with a southern rock vibe that Down would be proud of. The groove is filthy and sounds like nothing ever attempted before by this band. What could have been a horrible experiment turns out to be another tick in the box.


Rockhard.de (German) - 9/10



Metal Hammer Germany (German) - 6/7


TakeMyScars.com - A Place Dedicated to the Mighty Machine Head!