October 19, 07:09, posted by Crumbs.
SLAUGHTER THE MARTØUR NØRTH AMERICA 2024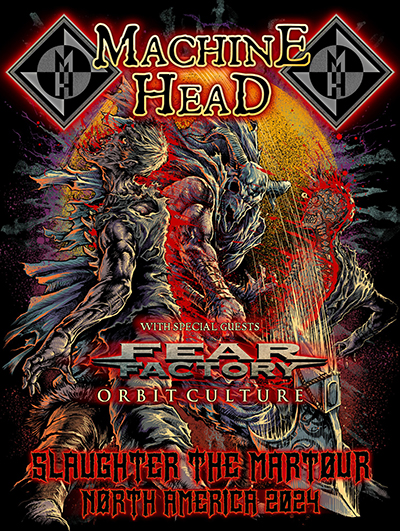 In an electrifying announcement that will cause anticipatory convulsions through the world of metal, Bay Area icons MACHINE HEAD have announced leg 1 of their 'Slaughter The Martøur Nørth America 2024' Tour.

Forgoing their "An Evening With…" format for the first time in a decade, MACHINE HEAD will have LA's cyber-metal masters Fear Factory, Sweden's Orbit Culture and Louisville, KY's Gates to Hell in tow guaranteeing your 2024 starts off as heavy as humanly possible!

Exclusive Machine Head pre-sale begins today for tickets and VIP packages at WWW.MACHINEHEAD.VIP use code: MARTOUR
Blabbermouth pre-sale begins Wednesday use code: MFNH2024
Spotify pre-sale begins Wednesday use code: MH4LIFE

JAN 19 SAN FRANCISCO, CA @ The Warfield
JAN 21 PORTLAND, OR @ Roseland Theater
JAN 22 SEATTLE, WA @ Showbox
JAN 23 VANCOUVER, BC @ Commodore
JAN 25 EDMONTON, AB @ Midway Music Hall
JAN 26 CALGARY, AB @ Grey Eagle Casino
JAN 27 SASKATOON, SK @ Coors Event Centre
JAN 28 WINNIPEG, MB @ Burton Cummings Theatre
JAN 30 MINNEAPOLIS, MN @ Skyway Theatre
JAN 31 CHICAGO, IL @ Concord Music Hall
FEB 01 PITTSBURGH, PA @ Roxian Theatre
FEB 02 NORTHFIELD, OH @ MGM Northfield Park
FEB 03 DETROIT, MI @ St Andrews Hall
FEB 05 TORONTO, ON @ The Opera House
FEB 06 MONTREAL, QC @ M Telus
FEB 07 QUEBEC CITY, QC @ Theatre Capitole
FEB 08 BOSTON, MA @ Paradise Rock Club
FEB 09 BETHLEHEM, PA @ Wind Creek Event Center
FEB 10 NEW YORK, NY @ Palladium Times Square
FEB 12 SILVER SPRING, MD @ The Fillmore Silver Spring
FEB 14 ATLANTA, GA @ Masquerade (Heaven)
FEB 15 ORLANDO, FL @ House of Blues
FEB 17 AUSTIN, TX @ Emo's
FEB 18 SAN ANTONIO, TX @ Aztec Theatre
FEB 19 HOUSTON, TX @ House of Blues
FEB 21 ENGLEWOOD, CO @ Gothic Theatre
FEB 22 ALBUQUERQUE, NM @ Sunshine Theater
FEB 23 MESA, AZ @ Nile Theater
FEB 24 LOS ANGELES, CA @ The Bellwether
Tickets are on sale this Friday at 10 AM local!


Source: MachineHead1.com