October 10, 2011, posted by FotherMucker99.
Robb Flynn interviewed by zoiksonline.com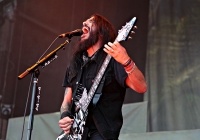 Bob Zerull of zoiksonline.com conducted an interview with Robb Flynn the day before the Big 4 Yankee Stadium show on September 14th.

You can now read the entire interview below






Zoiks!: Can you tell us about your new album "Unto the Locust?"

Robb Flynn: It is the logical follow up to "The Blackening," but it is not "The Blackening II." It's definitely going…it's part of the evolutionary chain of Machine Head records, but it's still has all the things that you've grown to know and love about Machine Head. It's got the patented harmonics, heavy vocals, fast, grooving.

Z!: How do you handle the pressures of following up such a successful album like "The Blackening?"

RF: We didn't try to compare. When we started writing it was just a matter of, 'where can we take this? Where can this go?' 'How can we challenge ourselves and push ourselves as musicians?' When we wrote "The Blackening it was 2005 into 2006. When we wrote this album it was four years later. When we wrote "The Blackening," that was the threshold of our abilities and we went and toured that record for three years. What was at one point the threshold became the new normal. So we became better players and better as a band. We took that and tried to utilize that more.

Z!: The early indications is that "Unto the Locust" is that its going to be a pretty big album for you guys, what was different about the writing and recording process this time around?

RF: Not much. I'd love to sit hear and tell you that when we write these grandiose epic records that we've got this big vision (laughs), but when we're in the studio it's just very "Beavis and Butthead." 'Hey what do you think of this riff?' 'That's cool, what do you think of this?' 'It's ok.' It's very much like that. We just write until we feel like we have a good collection of songs. I think the main thing for us is that the four of us get goose bumps. We're not writing for fans, we're not writing for radio, we're not writing for what we think people might want. We're just writing for ourselves and we feel that's the truest most honest gauge that there can be.

Z!: When you're making an album, what point do you realize you have something special?

RF: I think it differs from album to album. But with this record, even from the first song that was finished we knew we had something special. The first song that was done was "This is the End." We knew we had something different, something special, and something very unique and that was inspiring. It was really inspiring to have such a strong start and that helped spread into the rest of the work.

Z!: You have some listening events coming up can you tell us a little bit about those and how they came to be?

RF: There are listening events going on all over the world in the UK, Germany, Japan and Australia, we thought it might be cool to do some here. Being that we just wrapped up touring in America we weren't going to necessarily be touring right at release. We hadn't done some in awhile, but last time we did some was around "Through the Ashes" and that was 8 years ago, so we were like lets do it. We will be attending them, but I just want to clarify that we will not be performing there. We will be drinking (laughing) and the record will be playing, we'll be hanging and everybody can hear it for the first time. They're all going to be a bit different. Some of them will be having a Machine Head karaoke contest where kids can compete against each other to win bundles or a cd or shirts. It'll be killer man, we're really excited. We've done the karaoke thing in the past and it's fucking awesome. Kids just go out there and kill it, it's fun.

Z!: How was the Mayhem tour with Megadeth, Godsmack and Disturbed?

RF: Amazing.

Z!: Did you get a chance to play any of the new songs live?

RF: We did, we debuted "Locust."

Z!: How was the fan reaction?

RF: It was great man. The whole tour was great. I literally have nothing bad to say about it. It's the type of thing that you didn't want to end.

Z!: You heading out to South America for the first time in a long time with Sepultura, how excited are you?

RF: Super excited, we played Argentina one time, but we've never been to Brazil, we've never been to Chili. To go out and have Sepultura co headline with us and let us close is amazing. It's huge. It's killer, we're really stoked. The response to the tour has been phenomenal; we're very much looking forward to it. I've seen so many of the Rock in Rio's with Rush and the Maiden thing…I've just heard so many amazing thing about it, I can't wait.

Z!: How did that opportunity come about?

RF: When I was at NAMM, I went to see Sepultura play. We've never toured with Sepultura before, but we knew the guys. Obviously they were a huge influence to us. They were one of the main reasons that we wanted to sign with Road Runner. We felt whoever Sepultura was with they knew what they were doing. I was just talking to Andreas (Kisser) at the show and it was kind of like, 'we should tour man.' They were getting ready to release their record, we hadn't been there, it was a great opportunity to get together. They were like, 'you guys can headline, and it'll be fucking awesome.'

Z!: After that you have the Eighth Plague Tour, can you tell us a little bit about that tour?

RF: It's Machine Head, Bring Me the Horizon, Devildriver, and Darkest Hour. We'll be doing arenas across Europe and the UK. We're playing Wembley Arena for the first time which we're fucking so stoked about, it's awesome. It's our first headlining tour in awhile over there. Just to be doing it on such a huge scale is a huge moment for us and we're really proud and feel very grateful that we've had so many awesome opportunities to do this kind of stuff.

Z!: Are the crowds different around the world compared to here in the states?

RF: There are little differences here and there, but over all I think metal heads are…. they're the runts of the litter. They tend to have some problems, dysfunctional home life or whatever. We all as band members, we can all identify with that, that's where we all came from too. It definitely seems like that is a common bond that everybody shares.

Z!: When the Big 4 Shows were just a rumor, Kerry King mentioned that he thought Machine Head should be apart of it, what was your reaction to that?

RF: I was blown away when he said that. I don't know if we felt like we should be involved, those were the classic bands. Those were the bands that we looked up to. For my part, being on tour with Metallica, it was cool to play this little role in putting that all together. I kept on asking Lars (Ulrich), 'how come Metallica and Slayer have never toured together, you guys should tour,' we'd be all hammered. Then in LA, I introduced Kerry and Lars and said, 'hey man you guys should tour together.' I kept on sprinkling some seeds. I didn't play any big role in it or anything, I was just sprinkling seeds here and there…watered it a little bit. To see it finally happen was just incredible, it's such a cool thing.

Z!: If you could put together your own little Big 4, what bands would be on the bill?

RF: Fuck man, tomorrow is going to be pretty fucking close…it's going to be pretty fucking killer.

Z!: I interviewed Korn awhile back and asked them when they were starting out, what band's helped them get the word out and show them the ropes and they said Machine Head. Was there a band that was influential when you were first starting out that you learned from?

RF: Hmmm, I don't know if we learned from them, but Biohazard, who was also on Road Runner at the time, definitely were big supporters of the band. They were really hot at the time, they had that video on "Beavis and Butthead." They really backed the band, even from before, I was seeing them open for The Exploited like super hard core punk rock shows, We loved them. Sepultura I think gave us the thumbs, Napalm Death, Slayer…not getting us signed, but Slayer took us on tour.

Z!: What advice would you have for young bands out there trying to make a name for themselves?

RF: I don't know if I'm qualified to give advice on this subject (laughs). I don't know just be yourself. Do what you do, ultimately people can see if you're not being true to yourself. The more true to yourself that you are and in tune with the music you make, the more it connects with people.


Source: www.zoiksonline.com