MACHINE HEAD NEWS!
September 9, 2010, posted by Crumbs.
Robb Flynn: Thieves "Knew Where To Look"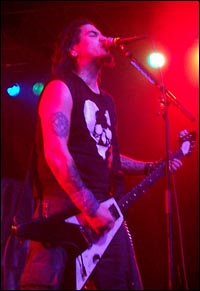 MACHINE HEAD frontman Robb Flynn spoke to the Contra Costa Times about the burglary of his home during which several of his guitars were stolen, including one that was a gift from late PANTERA guitarist "Dimebag" Darrell Abbott.

Flynn said he came home after picking up his six-year-old son Zander from school Tuesday afternoon to find that his home had been broken into. Missing were items including jewelry, computers, wakeboards and cash.

Thieves also stole four high-end guitars, Flynn said. One, a black Ibanez Stratocaster (see photo below), was used by Flynn to record MACHINE HEAD's first album, "Burn My Eyes". Another, a blue Washburn Dimebolt prototype (see photo below), was given to him by Dimebag.

"That is priceless to me," Flynn said, adding that the guitar's rarity would make it "really hard to sell."

Flynn, who moved his family to Martinez, California four months ago, believes that whoever invaded his home was somehow familiar with what was inside.

"It's not the work of teenagers doing a trash and grab," he said. "They knew I was going to be gone. They knew where to look."

Read more from Contra Costa Times.

Flynn is offering a $1,000 reward for the return of the black Ibanez Stratocaster and a $2,000 reward for the safe return of the blue Washburn Dimebolt prototype. The rewards offered extend to all pawn shop owners/operators as well, so if you live in Northern California, please pass the above information on to your local pawn shop.

KGO-TV report on burglary at Flynn's home:


Source: Blabbermouth.net
TakeMyScars.com - A Place Dedicated to the Mighty Machine Head!