MACHINE HEAD NEWS!
November 17, 2008, posted by Crumbs
Robb Flynn Says BARACK OBAMA's Victory Is 'Historic Beyond Words'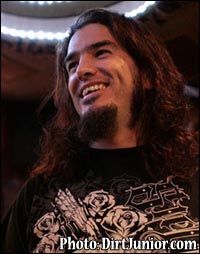 Finland's HardcoreSounds.Net conducted an interview with guitarist/vocalist Robb Flynn of the San Francisco Bay Area metallers MACHINE HEAD prior to the band's November 7, 2008 concert at the Helsinki Ice Hall with SLIPKNOT and CHILDREN OF BODOM. Watch the 10-minute chat below.

Asked for his opinion on Barack Obama's epochal election victory on November 4, Flynn replied, "[It's] awesome, man. It's fucking killer. It's amazing, really. Historic beyond words. First black president in the history of America; it's pretty fucking unbelievable. The dude's fucking getting dropped into a giant pile of shit… [laughs] … with no paper towels to wipe it off or anything, so he's a got a lot of fucking work to do. And I get the vibe that he can do it. For the first time in a long time, I believe. And I wanna believe."


TakeMyScars.com - A Place Dedicated to the Mighty Machine Head!