May 17, 2010, posted by Crumbs.
Robb Flynn Remembers RONNIE JAMES DIO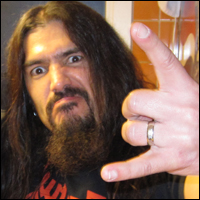 Guitarist/vocalist Robb Flynn of San Francisco Bay Area metallers MACHINE HEAD has posted the following message regarding the passing of legendary heavy metal singer Ronnie James Dio (DIO, HEAVEN & HELL, BLACK SABBATH, RAINBOW):

"Dio was a true gentleman.

"MACHINE HEAD had the opportunity to open for HEAVEN & HELL in May of 2007, and having never met or toured with Ronnie James Dio, it was a HUGE honor for all of us.

"On the first night of the tour in Phoenix, Arizona we celebrated, uh, quite heavily, and though the Dio dressing was heavily fortified with an army of security, I somehow managed to bullshit my way in and say hello. He had no idea who I was, but acted like we were old friends. After that, he always made a point to poke his head in our dressing room and say 'hi,' or give Dave [McClain, MACHINE HEAD drummer] shit about 'his San Antonio Spurs choking,' or sometimes just to give us a $100-dollar bottle of wine they were going leave in their dressing room. All class.

"He was a powerhouse singer. Incredible tone, and grit. His voice onstage was FUCKING LOUD!! Shockingly loud!! We were lucky enough to watch from side stage almost nightly, and all of us were blown away by how loud his voice was.

"His memory was staggering. He remembered my wife's name almost a year later, after only a brief one-minute introduction, and it charmed her to no end. He remembered my name a year after touring with him, in a crowd of people, without missing a beat, and asked how my kids were and kissed me on both cheeks when we said goodbye. I turned to my friend and was like, 'Dude, Dio just remembered my name and kissed me on the cheek, fuckin' High 5!!'

"When my parents moved to Fremont, California as I began the seventh grade, it was a pretty lonely time for me. I became friends with a girl named Lori Kibby who played me the first heavy metal record I would ever hear. It was BLACK SABBATH's 'Heaven and Hell'. It terrified me, enthralled me, captured me entirely. The imagery, the name, the title, it made me want to listen over and over and over again, in particular the songs 'Heaven and Hell', 'Children Of The Sea' and 'Die Young'. My first garage band, (the awesomely-named INQUISITOR) covered 'Stand Up And Shout'.

"Would I have found metal without him? Maybe. But man, I feel so very fortunate to have had Ronnie James Dio as my first guide into the awesome world of metal.

"Thank you, thank you, thank you for everything you've done for music, Ronnie.

"Horns."


Source: Blabbermouth.net