MACHINE HEAD NEWS!
July 1, 2011, posted by Crumbs.
Robb Flynn Interviewed by San Francisco Chronicle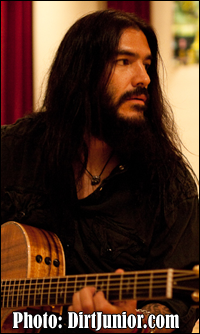 We caught up with Machine Head front man Robb Flynn last week at Green Day's Jingletown Studios, where he was putting the finishing touches on the Grammy-nominated Oakland group's upcoming seventh studio album, "Unto the Locust." There was just one problem. "We can't seem to write a damn song under six minutes," he said. Flynn wasn't kidding: The band's latest single, "Locust," clocks in at over eight. Machine Head, by some estimates the second-biggest heavy metal act in the Bay Area, plays the main stage at the Mayhem Festival at Shoreline Amphitheatre next Sunday.

Q: You're recording your seventh album at Green Day's studio. Does Billie Joe Armstrong ever drop by and offer advice?

A: I think he's got better things to do than offer us advice. It's a good studio. We've been in a bunch of corporate spaces with Art Deco couches you can't really sit in. It's cool to be in a place that's world-class but has punk rock posters on the walls and pictures of the Avengers and the Clash and the Beatles. It's also got Martin Luther King's mug shot in the bathroom.

Q: I'm sure Billie Joe would have told you that, at eight minutes, "Locust" is probably six minutes too long to get on the radio.

A: Yeah, we're not exactly trying to reach the Alice crowd with this one. It's got a solo section that's over two minutes long - most pop songs now aren't even that long. We're conditioned that everything needs to be three minutes or it's not going to connect. I think music should take you on a journey. Riding a train is cool, but riding a roller coaster is more fun.

Q: Is the rest of the album stacked with epics?

A: I think we've really taken our music to next level with this. We feel super excited about it. I started taking some singing lessons with the guy who worked with Mick Jagger and Lady Gaga. And then I took some classical guitar. I wanted to feel like a beginner again and not be comfortable and see what that brought out. There's definitely a big neoclassical vibe on the record between all the brutality.

Q: What's the scene like backstage at the Mayhem Festival? I imagine there aren't too many guys sipping Chardonnay and playing pingpong.

A: There's a lot of testosterone in the air, that's for sure. But it's a good vibe. They did this great thing where every band on the tour is in charge of throwing a party every three days. There are just two conditions: You have to have an alcoholic beverage that sums up your band in some way. The second (rule) is the party has to have a theme. Last time, ours was the Fourth of July, even though it was in August. We got all these fireworks and shot them up until the cops came.

Q: How long does it take for the backstage shower to get clogged with man hair?

A: I never worry about that. My biggest fear is how many crew guys had athlete's foot before I go in the shower and how long before my foot is covered over with it.



Machine Head at the Mayhem Festival with Disturbed, Godsmack, Megadeth, Testament and others: 2:15 p.m. next Sun. $33-$58. Shoreline Amphitheatre, 1 Amphitheatre Parkway, Mountain View. (800) 745-3000.


Source: SFgate.com
TakeMyScars.com - A Place Dedicated to the Mighty Machine Head!