MACHINE HEAD NEWS!
December 27, 2012, posted by Crumbs.
Robb Flynn Acoustic Performance of "Die Young"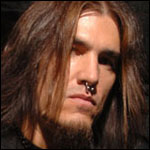 Check out footage of Robb Flynn's acoustic performance of Black Sabbath's "Die Young" at the Mitch Lucker Memorial concert. Feat. Mark Heylmun from Suicide Silence and Robb's tech Scott on guitar.

Mitch Lucker, Suicide Silence frontman died on November 1st, after sustaining injuries in a motorcycle crash in Huntington Beach on Halloween night.


Source: YouTube.com
TakeMyScars.com - A Place Dedicated to the Mighty Machine Head!