MACHINE HEAD NEWS!
February 19, 2016, posted by Crumbs
Reims show tonight is cancelled. French / Lux shows rescheduled, Paris confirmed!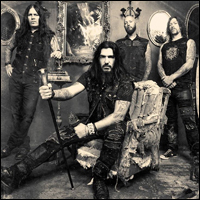 Due to the ongoing sickness of frontman Robb Flynn, tonightís show in Reims has been cancelled.

Adds frontman Flynn, "I went to the hospital in Reims yesterday as every time I cough it feels like Iím inhaling fire while someone jabs a screwdriver sideways in my throat. The doctor said I have severe bronchitis, a burned trachea, and a throat infection. He gave me a whole new set of meds, inhalers, and antibiotics to take, (which Iím taking), plus sitting in the insanely hot sauna every day to sweat this shit out.

The good news is that all of the cancelled shows have been rescheduled to mid-March after the UK dates, and amazingly, there was an avail in Paris when we looked, so we took it with a quickness. The Lille show will happen tomorrow, and I expect to be 100% in no time.

I realize this has been disappointing for many of you, (travel plans, timing, etc) please know that no one has been more disappointed about this than me. We thank you for your understanding and patience during the extremely frustrating time, we will make it up to you Head Cases!!"

All sold tickets remain valid for the new dates, below are the rescheduled shows including the new Paris date:

15 Mar - Luxembourg - Den Atelier
16 Mar - Paris - Cabaret Sauvage **
18 Mar - Reims - Cartonnerie
19 Mar - Clermont-Ferrand - Coop De Mai


TakeMyScars.com - A Place Dedicated to the Mighty Machine Head!