MACHINE HEAD NEWS!
January 17, 2011, posted by Crumbs
ROBB FLYNN Signature Series EPIPHONE Flying-V Guitar Coming Soon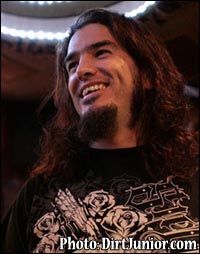 Guitarist/vocalist Robb Flynn of San Francisco Bay Area metallers MACHINE HEAD recently signed a multi-year deal with Gibson/Epiphone that will see Epiphone launching an exclusive Robb Flynn signature series, baritone-scale Flying-V guitar. More details will be released in the coming weeks.

Flynn and MACHINE HEAD drummer Dave McClain will both be appearing at this year's NAMM show at the Anaheim Convention Center in Anaheim, California. You'll find Dave signing at the Yamaha booth on Saturday, January 15 at 11:15 a.m, and Robb signing at the Epiphone booth on Friday, January 14 at 3:00 p.m.

MACHINE HEAD last year begun writing and demoing material for the band's new studio album, which the group hopes to officially start recording by April. At least two songs have been fleshed out in demo form, with several others in the works.

MACHINE HEAD's long-awaited follow-up to 2007's "The Blackening" is tentatively due late 2011 via Roadrunner Records.


TakeMyScars.com - A Place Dedicated to the Mighty Machine Head!