MACHINE HEAD NEWS!
August 3, 2009, posted by Crumbs
ROBB FLYNN Says LIMP BIZKIT's DJ LETHAL Is Acting Like 'An Internet Tough Guy'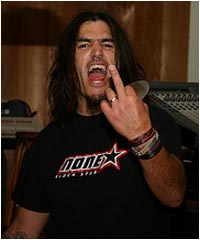 MACHINE HEAD frontman Robb Flynn has issued the following update on the official MH boards:

Just played Sonisphere Knebworth, HOLY SHIT!!!!!! Fucking UN-BELIEVE- ABLE!!!!!!! DJ Lethal from Limp Bizkit's response to my comment about how we were going to CRUSH them was hilarious. He said "the only thing crushed was our ego's" Hahahaha!! Apparently he forgot to mention the "un-prompted" 3 minute long "FUCK LIMP BIZKIT" chant today from all 45,000 people at Sonisphere.

http://www.machinehead1.com/misc/knebworth.mp3

Yeah! Tonight was one of the biggest EGO boosts we've ever had! Not that we had shit to with it, but it was funny how the crowd chanted MACHINE FUCKING HEAD in between every song that Limp Bizkit played tonight, and they didn't say SHIT about it onstage except "Machine Head is hard, and their fans are hard" Now that their their away from our crowd, and our stage, now he's an internet tough guy. And this is coming from the guy wearing a Machine Head shirt ONSTAGE tonight...hmmm... NICE!

BTW - We had 21 CIRCLE PITS TODAY!!!!!!!!!!!!!!!! That is a new record for the UK!!!!!! Our previous record at Download was 12 circle pits. Today we made fucking history today Sonisphere!!!! FUCK YEAH!!!!!!!!

If there's any doubt, footage from both sets will appear sooner or later.


TakeMyScars.com - A Place Dedicated to the Mighty Machine Head!