MACHINE HEAD NEWS!
September 16, 2008, posted by Crumbs
ROBB FLYNN Hits The Stage With FORBIDDEN In San Francisco!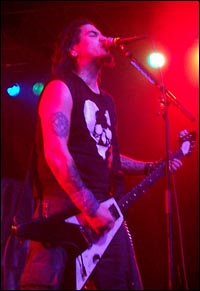 Guitarist Craig Locicero of the reunited San Francisco Bay Area thrashers FORBIDDEN has issued the following update:

"What a great night we had at Slim's [in San Francisco on Friday, September 12]! Everything about the experience was pretty f'n satisfying. I guess you could say it was full circle, closure and a new beginning all in one night.

"When we took the show one, we barely had three weeks to get the word out there. It didn't seem to matter because the show was still comfortably packed. This time there was a little room to breathe as opposed to when we did the two gigs with DEATH ANGEL, that was claustrophobic! But that was good too.

"When the word got out about [former FORBIDDEN drummer] Paul [Bostaph; SLAYER, TESTAMENT, EXODUS] playing with us again it sent some electricity around the Bay. But we already had a lot we wanted to prove on our own. The most important thing was for Russ [Anderson, vocals] just to be able to go out there and perform at his best, and he did! I'm not trying to make excuses for the guy, but he never got to put his best foot forward with our local gigs and the Euro tour we did back in June. Singers are sometimes victims of circumstance. When your a band that hasn't toured in over 12 years and you get nine shows in nine days in a row, somebody's gonna suffer. Russ did take one for the team then, but he didn't bitch (too much)! Haha. So, needless to say, he kicked ass on Friday night! Hit the highs and brought all the power big-time. I just think that some folks forget how hard it is to be a real singer in this genre. We don't have any kind of cushy situation here. Just five hard-working dudes making the music they love.

"Now for the rest of the evening. The crowd was on fire! It must have been cool for Mark [Hernandez, drums] to finally get to play for his home town after the last few months. He was great and everyone treated him accordingly. Mark really does fit the band wonderfully. He and Paul got along great and helped each other a ton. Paul was even showing him some old tricks he had to re-remember. That was priceless!

"The moment when Paul got behind the kit was deja vu! For me, the thing I love most about Paul's work with FORBIDDEN is how innovative his material really was. The beats, fills and groove were all so unique. It's any wonder why SLAYER sought him out in 1991! And he's a really nice human being as well. We really enjoyed that interaction again. Thanks to TESTAMENT for letting us borrow Paul for these few nights. Good times!

"That's not all that happened. Even Robb Flynn [MACHINE HEAD, ex-VIO-LENCE, FORBIDDEN], the original counterpart guitarist to myself, got up and sang 'Chalice of Blood' with Russ and Mark! That was great! Here we have our Paul Bostaph and Robb Flynn and Mark Hernandez all sharing the stage with us all at the same time! It was killer to have our old friend, Robb, step onto the same stage with us after all of those years. He was super-cool too! We're all very proud of Robb and MACHINE HEAD for what they represent for modern Bay Area metal. They know were it all began because they lived it.

"All of this was a big part of the dream. What we need next is Tim Calvert and Steve Jacobs to be available and make an appearance and the circle will be complete. All of these guys were all integral to the long history of FORBIDDEN. And that history is still being written today and in the future!

Thank you from the bottom of our hearts!

"Next stop...Japan!"


TakeMyScars.com - A Place Dedicated to the Mighty Machine Head!