MACHINE HEAD NEWS!
October 29, 2012, posted by Crumbs.
Pre-Order Machine Fucking Head Live Deluxe Digital Album Includes 4 Previously Unreleased Bonus Tracks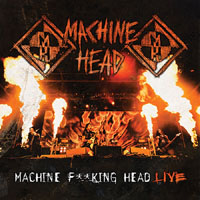 Machine Head's new live album "Machine Fucking Head Live" will be released on November 13th, and right now you can pre-order the 2-CD release or the Digital Special Edition (featuring 4 bonus tracks) and receive a free, immediate download of the 6-track "B-Sides & Rarities" digital EP!

Tracklisting:

Deluxe Digital
CD:1
1 I Am Hell (Sonata in C#)
2 Be Still And Know
3 Imperium
4 Beautiful Mourning
5 The Blood, The Sweat, The Tears
6 Locust
7 This Is The End
8 Aesthetics Of Hate
9 Old

CD:2
1 Darkness Within
2 Bulldozer
3 Ten Ton Hammer
4 Who We Are
5 Halo
6 Davidian
7 Alan's On Fire (bonus track)
8 My Misery (bonus track)
9 Locust (Demo 2011) (bonus track)
10 This Is The End (Demo 2011) (bonus track)

B-Sides and Rarities
1 Negative Creep
2 The Possibility Of Life's Destruction.
3 Hole In The Sky
4 Locust (My Name Is Purity) (Demo 2011)
5 Be Still And Know (Can We Be Reborn) (Demo 2011)
6 I Am Hell (Sonata in C#) (Alt Vocals) (Demo 2011)

PRE-ORDER HERE >>


Source: Store.roadrunnerrecords.com
TakeMyScars.com - A Place Dedicated to the Mighty Machine Head!