MACHINE HEAD NEWS!
October 10, 2008, posted by Crumbs.
Pictures Of Robb Flynn's New Guitar!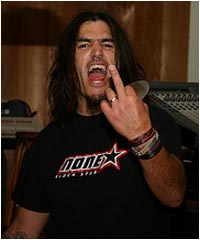 Robb Flynn have posted the following on the Official MH Boards:


24 frets
27 inch baritone scale neck
Chrome inlays
Volume knob routed from back
Only one ever made in history
= The Heaviness!!


So Stoked!

More pictures here >>


Source: Frontlines.machinehead1.com
TakeMyScars.com - A Place Dedicated to the Mighty Machine Head!