MACHINE HEAD NEWS!
July 29, 2009, posted by Crumbs
Phil Demmel Okay After Collapse In Finland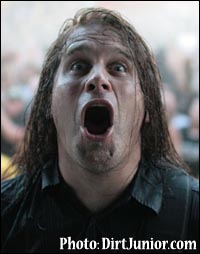 After collapsing again onstage during Saturday's Sonisphere in Pori, Finland, Phil Demmel is currently doing fine and has issued the following statement:

"Thanks to you all for your concern. Saturday's episode was different than the previous. I felt it before we went on and probably should've gotten oxygen before Halo. 3 of the 4 collapses have happened during that song. This run has been the most grueling traveling that we've done in a looooong time and I'm fairly confident that my condition had nothing to do with this one. Looking forward to the rest of our scheduled appearances. I sincerely apologize for cutting the show short as it pains me severely.

Thanks again."


TakeMyScars.com - A Place Dedicated to the Mighty Machine Head!