MACHINE HEAD NEWS!
July 14, 2011, posted by Crumbs.
Phil Demmel Goes Through His Current Gear Setup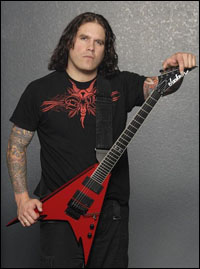 Greetings to all you MetalSuckahs from Reno, Nevada where Machine Head are doing a warm-up show before the Rockstar Energy Drink Mayhem Festival starts in two days. My name's Phil Demmel, I've been playing guitar with these guys for the past nine years and I'm stoked to share with you gear-heads the rig that I'm currently using.

As of two days ago we've switched to using an amp/tone/effects processor called the Fractal Axe-FX.

We've been able to program our Peavey 5150/6505 settings into it and interface it with our Custom Audio Electronics effects unit so we have access to all our presets, and also manual moves if need be. Included in my CAE unit is: Rocktron Prophecy 2 for some clean tones (it will be weeded out after I get more familiar with the Fractal), MXR Zakk Wylde Overdrive, MXR Super Fuzz, BOSS CE-5 Chorus, MXR EVH Phase-90, BOSS NS-2 Noise Suppressor, Voodoo Lab pedal power, Electro-Harmonix Electric Mistress.In the effects loop- BOSS DD-7 delay, CE-5 chorus and a compressor for that Neil Schon sustain. Depending on the venue I'll use the rack mounted Dunlop Wah or a Zakk Wylde wah (in polka dot Buddy guy casing tributing Randy Rhoads).

Full story here >>


Source: www.metalsucks.net
TakeMyScars.com - A Place Dedicated to the Mighty Machine Head!