MACHINE HEAD NEWS!
December 13, 2008, posted by Crumbs
Phil Demmel Collapses Onstage In Sheffield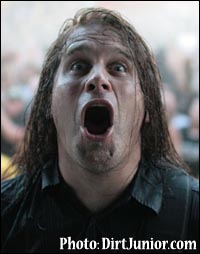 MACHINE HEAD guitarist Phil Demmel collapsed onstage earlier tonight (Friday, December 12) during the second-to-last song of the band's performance in Sheffield, England.

Says singer Robb Flynn, "He's doing much better now and taking it easy. As Phil has mentioned before, the doctors say he suffers from episodes of Cardiogenic Syncope and has for the last 17 years or so. We're all a little worried here in our camp, but Phil genuinely wants to carry on. It is a bit unclear to us as to why these keep happening, but at Phil's request, we will finish out all these dates through to METALLICA in L.A. [on December 17 and December 18]"

The band adds in a statement: "MACHINE HEAD wish to extend our gratitude to the good people of Sheffield for their support and for being so understanding at the end of our show. MACHINE HEAD are still set to perform with Demmel at the last two remaining stops in Antwerp and Luxembourg."


TakeMyScars.com - A Place Dedicated to the Mighty Machine Head!