December 27, 2009, posted by Crumbs
PHIL DEMMEL: The Next Record Is Gonna Be Our Best Record!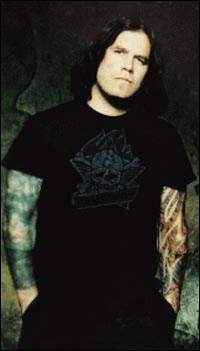 Robert Gray of Ultimate-Guitar.com recently conducted an interview with guitarist Phil Demmel of San Francisco Bay Area metallers MACHINE HEAD. A few excerpts from the chat follow below.

Ultimate-Guitar.com: MACHINE HEAD recorded a version of PANTERA's "Fucking Hostile" for a "Dimebag" Darrell tribute album, to be included with Metal Hammer magazine's two hundredth issue. Why did the group choose that specific track to cover for the Dimebag tribute album?

Demmel: There's two albums we wanted to choose from: "Far Beyond Driven" (1990) with "Five Minutes Alone" or... we decided to go with "Fucking Hostile" because the song sums up where we were at that time — it's really fast, and really aggressive.

Ultimate-Guitar.com: Musically speaking, how would you compare MACHINE HEAD's version of "Fucking Hostile" to the original rendition?

Demmel: Ours is downtuned, so it's a step and a half lower. We recorded "Fucking Hostile" in C# to see if Robb [Flynn] could sing in that key. We patterned ours after the "101 Proof" (1997) version, so there's some picking differences. The solo is patterned after the solo that Dime did on the live version, but other than that, we tried to keep our rendition as close to what they did. When we do cover songs, we try to do that; we try to play them note for note like the originals.

Ultimate-Guitar.com: How much of an influence is "Dimebag" Darrell on your guitar playing?

Demmel: He's a huge influence. He's the most influential heavy metal guitarist that there was. He created sounds and styles that hadn't been done before. I mean, yeah, he patterned a lot after Eddie Van Halen, but Eddie Van Halen was a rock guitarist. Dime brought it into the metal world, so he was a huge influence.

Ultimate-Guitar.com: Were you lucky enough to ever meet the man himself?

Demmel: Yeah. In 2004, actually, roughly pretty much before he was killed. We did the Download festival, and were playing the main stage. SLAYER was late, for some reason. DAMAGEPLAN had pulled up, and they had been up for a couple of days. Dime was pretty hammered — this was right after [MACHINE HEAD's] "Through the Ashes of Empires" had come out. He came up to me, and just praised my playing on the guitar. He called me a shredder, and said he thought the leads on our album were great, and that I was such a good player. Coming from Dime, it was just one of the compliments that I'll always remember. It was really cool.

Ultimate-Guitar.com: After touring next year, MACHINE HEAD plans to record its seventh studio album. Has anything been written thus far?

Demmel: No. We wrap up our touring commitments in March, and that'll make "The Blackening" pretty much a three-year touring cycle. We've started writing a little bit, but not really. Dave [McClain, drums] brought a few riffs to the table, and Robb has a few. I've had a couple, Adam [Duce, bass] brought a couple.

Ultimate-Guitar.com: So there are just riffs and parts at present then?

Demmel: There's no songs or nothing yet, yeah. We're not a writing band as such. We just lock ourselves up in a room, and hash it out that way. It could be awhile before you get another MACHINE HEAD record.

Ultimate-Guitar.com: How would you compare these riffs to those on "The Blackening"? Are they heavier, or in the same vein?

Demmel: From the stuff that we've written, some of it could've been on "The Blackening", and some of it couldn't have. The thing about being involved in the band's writing process for the last album and a half is that I could pick out a song like "All Falls Down" or "Wipe the Tears", songs from "Ashes", and then compare them to "In the Presence of My Enemies" or "Imperium", and you can tell the state of mind that the band was in at the time. You can then go from "Slanderous", which was one of the first songs written for "The Blackening", to "Clenching the Fists of Dissent" or "A Farewell to Arms", and there's a difference in what our state of mind was at that time. It's gonna be where we are. We're in a state of euphoria. Those albums were written when the band was at a pretty low point. We're riding this nice wave of success now, so I'm just hoping that we remember the hunger, remember the starvation, that we had at that point. We didn't have a deal — we didn't have a record label. All of that justification that we were striving for we have now, so we wanna remember the fire that we had.

Ultimate-Guitar.com: Is there any pressure at all, considering the success of "The Blackening"?

Demmel: An extreme pressure man, yeah (laughs). There's a lot, but it's the same that we felt with "Ashes", too, though. After we came out with "Ashes", and it was reviewed so well and held in high praise, we felt, "Fuck man, we got a hell of an album to follow up." I said after "Ashes", "The next album is gonna be the one", and I'm saying it again: the next record is gonna be our best record. We haven't hit our writing peak. Dave McClain is bringing a ton of stuff — he wrote "Halo". He wrote some of the best riffs on "The Blackening". Dave is the unsung hero of that record. Adam's taking lessons, and he's really learning his instrument, really getting into it. With the four of us all just really pouring ideas in, this is gonna be the most complete record.

Ultimate-Guitar.com: Has the extensive touring for "The Blackening" spawned musical ideas for each of the guys? Inspired MACHINE HEAD a lot for the group's seventh album?

Demmel: Yeah, I think so. The formula worked on the last two records, because we just wrote for ourselves. Screw the radio play, screw the labels, and screw everybody else — let's write songs that we enjoy to hear. As long as we adhere to that formula, which we did for "The Blackening", we know that we'll be alright, and at the end of the day, we'll be OK with ourselves. That's all that matters. It'd be different if we just wrote with a different agenda, and it failed, and we thought, "Wow, fuck (laughs). We can't even look at ourselves in the mirror."

Ultimate-Guitar.com: Do you feel that MACHINE HEAD is now more of a priority for Roadrunner Records, considering the success of "The Blackening"?

Demmel: I would like to think so, yeah. We're pretty deep into this touring cycle.. I think so. I think there's people at the label who really believe in the band, and really hold us in high regard. Shit, ya know? If you look at where MACHINE HEAD started to where we are now, and how many bands that've come and gone.. we just went silver in the U.K. — "The Blackening" did. Fifteen years later, after their first record with "Burn My Eyes", we're more relevant now than they were back in the day. That's a real testament to the band, and to the people that work for it.

Ultimate-Guitar.com: Has MACHINE HEAD chosen a producer for its seventh studio album?

Demmel: No. Robb produced the last two records, and we're really so comfortable with him doing that, and then finding an engineer. We don't know where we're gonna record it or who's gonna engineer, but Robb's gonna produce again, I'm pretty sure. Robb knows the MACHINE HEAD sound better than anybody; he knows the tones, and he knows the structure of what it should sound like. We trust him with that. He's got such a good musical ear, and such a good phrasing, that we all lean on heavily. We were kinda hesitant when we did "Through the Ashes of Empires", and by default didn't really find anyone available, so Robb took over and it worked out really well. We're not gonna break that.

Read the entire interview at Ultimate-Guitar.com.