MACHINE HEAD NEWS!
July 27, 2009, posted by Crumbs.
PHIL DEMMEL Collapses On Stage In Finland!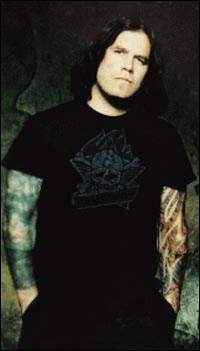 MACHINE HEAD guitarist Phil Demmel is fine after dramatically collapsing on stage earlier today (Saturday, July 25) during the finale to the band's blistering set at the Sonisphere festival in Pori, Finland. Although he had to be helped off stage, he exclusively told Team Sonisphere that he is now feeling okay.

TakeMyScars.com recieved the following mail from Jaakko Aronen:
I was in Kirjurinluoto's MH concert last night. I suppose you have already heard but yesterday Phil collapsed again during Halo after the solo. He collapsed on the Marshall stack, not like straight to the floor. Robb or the boys didn't even regonised what happened...well, what I say, in about 30 seconds or so. ER team and rest of the band carried Phil behind the stack and recovered him. After medical aid he walked away from the stage with his own feet and a little bit of help. And seemed to be OK.

Phil Demmel have left the following comments about the incident:
Basically I want to apologize to all the fans for cheating them of their last song," he said. "I feel I short-changed the fans and really want to make it up for them," Phil said backstage afterwards. "Thanks for all the concern."

This is not the first time Phil — who suffers from a rare condition called cardiogenic syncope (which means that the heart sometimes fails to pump enough blood to the brain, resulting in the sufferer blacking out) — has collapsed on stage. MACHINE HEAD was forced to cancel the last two shows of its European tour with SLIPKNOT last December after Demmel blacked out during the second-to-last song of the band's set in Sheffield, England.

Video of the collapse in Finland:

TakeMyScars.com - A Place Dedicated to the Mighty Machine Head!