MACHINE HEAD NEWS!
October 1, 2012, posted by Crumbs.
New Machine Head Live Album: "Machine Fucking Head Live"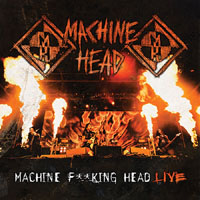 The best way to experience the almighty Machine Head is in the live setting. The Northern California band has established itself as one of the best live acts in the hard rock and metal world, bringing venues and crowds to their knees with flawless onstage execution of their songs. Few, if any of their peers can deliver the type of sweat-soaked, utterly deafening and fully punishing live sets that the band turns in night after night with near-religious fervor in their native U.S. and across the globe.

That's why the band, who routinely shake the bedrock and foundation of venues, had to capture its live fury on tape... again.

The band will release "Machine Fucking Head Live" on November 13. It's Machine Head's second live effort; HellaLive was released in 2003. Nine years have passed and Machine Head still slay and administer a beating in the live realm.

The band, affectionately known as "Machine Fucking Head" to their fans - who are in turn affectionately known as "Head Cases" and often sing louder than the band at shows - has effectively captured its live firepower.

"Machine Fucking Head Live" was recorded at various tour stops across the globe last year. It includes songs from the band's expansive catalog, including pit-stirring crowd favorites such as "Imperium", "Aesthetics of Hate", "Locust", "Ten Ton Hammer", "This Is The End" and of course, "Halo."

"The Head Cases have been so intense on this tour cycle that we had to start capturing the shows, especially with technology making it so much easier to record", said frontman Robb Flynn. "We culled some of the best nights where the band and crowd were on fire and made a bad-ass, nearly two-hour, double-live album, which is a great documentation of where the band is at 18 years deep."


Tracklist:

01. I Am Hell (Sonata in C#)
02. Be Still And Know
03. Imperium
04. Beautiful Mourning
05. The Blood, The Sweat, The Tears
06. Locust
07. This Is The End
08. Aesthetics Of Hate
09. Old
10. Darkness Within
11. Bulldozer
12. Ten Ton Hammer
13. Who We Are
14. Halo
15. Davidian


Source: Machinehead1.com
TakeMyScars.com - A Place Dedicated to the Mighty Machine Head!