February 19, 2008, posted by Crumbs.
New Audio Interview With ROBB FLYNN Available!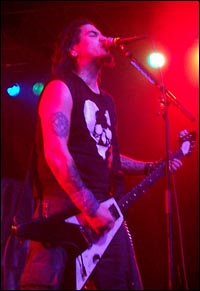 Even though they didn't walk away from this year's Grammy Awards with a gold trophy, as they probably should have, Machine Head have no real reason to feel disappointed. After all, it's been a hell of a year. Since the release of their sixth album The Blackening in March 2007, Machine Head have been showered with praise and toured the U.S. and abroad with many of today's brightest metal bands, including Shadows Fall, Arch Enemy, Trivium, Dragonforce and Throwdown.

Machine Head are currently on the road with Hellyeah, Nonpoint and Ankla, and on July 9 in Seattle they'll headline one of the two second stages at the Mayhem Festival, which also features Slipknot, Disturbed, Sevendust, 36 Crazyfists and others. Of course, there have been some major setbacks along with the success. In August 2007, bassist Adam Duce broke his leg in a dirt bike accident, in December, guitarist Phil Demmel's father died and he had to leave the Black Tyranny Tour and last week, drummer Dave McClain's mother passed away, forcing the band to cancel one show and use fill-in drummers for another.

But such adversity only makes Machine Head work harder. They plan to remain on the road for most of 2008, blowing away the faithful and converting those seeking something louder and more dynamic than the fashion-oriented emo and radio-ready pabulum they've been spoon-fed over the past few years. And why not? In addition to performing amazing concerts, Machine Head release creative and artistic videos, pen thought-provoking lyrics and record lengthy, multifaceted songs that flow like short, fist-clenched anthems.

In our Headbangers Ball Blog podcast interview with Machine Head's Robert Flynn, the sarcastic, fun-loving frontman talks about losing this year's metal Grammy to Slayer, the tragedies that have marred the band's triumphant tours, the rewards of shooting a good video, trying to match Hellyeah's Vinnie Paul shot for shot and what he'd pay to see Arch Enemy singer Angela Gossow in an adult diaper.

Click here for an MP3 download of the Headbangers Ball Blog podcast interview with Flynn.


Source: HeadbangersBlog.Mtv.com