MACHINE HEAD NEWS!
November 18, 2007, posted by Crumbs.
Machine Head won "Album of the Year" @ Danish Metal Awards!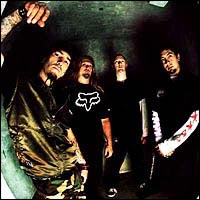 MACHINE HEAD are among the bands that were honored at the Danish Metal Awards 2007, which was held yesterday at Amager Bio in Copenhagen, Denmark. The complete list of winners is as follows:

Album of the Year: VOLBEAT – "Rock the Rebel / Metal the Devil"
Debut Album of the Year: PITCHBLACK - "Redesigned to Dislike"
Production of the Year: MNEMIC - "Passenger"
Cover of the Year: ANUBIS GATE - "Andromeda Unchained"
Video of the Year: THE PSYKE PROJECT - "I Get Paralyzed"
International Album of the Year: MACHINE HEAD - "The Blackening"
Live Band of the Year: DAWN OF DEMISE
Talent of the Year: INVISIUS - "Edge of Hostility"

SOILWORK, HATESPHERE, VOLBEAT, MNEMIC and EVIL MASQUERADE played abbreviated sets at the event.


Source: Blabbermouth.net
TakeMyScars.com - A Place Dedicated to the Mighty Machine Head!