MACHINE HEAD NEWS!
December 21, 2009, posted by Crumbs.
Machine Head will tour Japan and Australia in the spring of 2010!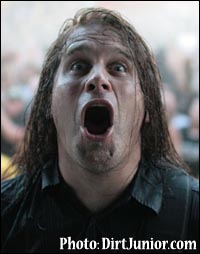 A new interview made by FULL METAL ROCK with Phil Demmel has been posted online. The interview was made on December 5th at the Mandalay Bay Events Center in Las Vegas, NV when Machine Head was supporting Metallica. When asked about the upcoming tour in Europe Phil said:

-It will be UK, Europe and then its also going to be Japan and Australia. So it's the Black Procession tour with us, Hatebreed, Bleeding Through and All Shall Perish, and then in Europe, and I think we have Emmure opening in Japan and Australia. So we are looking to do a full set, an hour and forty minutes, may be more, stuff that we haven't played and just get out there and play our own set and tour the way that we want to.

Read the full interview here >>


Source: Fullmetalrock.com
TakeMyScars.com - A Place Dedicated to the Mighty Machine Head!