MACHINE HEAD NEWS!
October 16, 2011, posted by FotherMucker99
Machine Head interviewed on MTV2 Headbangers Ball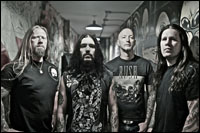 Jose Mangin talked to Adam Duce, Dave McClain & Robb Flynn on September 24th after the official Unto The Locust listening party at Last Rites Tattoo Theatre & Gallery.


You can now watch the chat below




TakeMyScars.com - A Place Dedicated to the Mighty Machine Head!