MACHINE HEAD NEWS!
September 5, 2011, posted by FotherMucker99.
Machine Head featured on MTV's Headbangers Ball special of Mayhem Festival 2011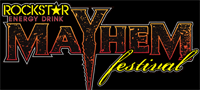 Jose Mangin interviewed Dave McClain and Robb Flynn before Machine Head's show in Bristow, VA on July 30th.

You can now watch the chat below



Source: www.mtv.com
TakeMyScars.com - A Place Dedicated to the Mighty Machine Head!