MACHINE HEAD NEWS!
June 21, 2011, posted by Crumbs
Machine Head "Locust" Review — 5 out of 5 stars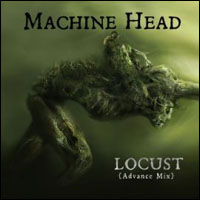 A review for Machine Head's new single "Locust" has been posted by ArtistDirect's Rick Florino, check it out!

Machine Head have released more than a couple masterpieces, however, "Locust" sets a new standard even for the Bay Area's toughest and most trustworthy metal titans. The first track from the group's forthcoming seventh album razes everything in its path and erects a new zenith for everyone else out there to attempt to grasp. This is everything a classic metal song should be.

"Locust" begins with an airy, ominous clean guitar intro that mounts slowly with a calculated darkness. Dave McClain's pounding drums kick in and lock in with the guitars and Adam Duce's bass rumble before everything slides into earth shattering groove riffs, peppered with the pinch harmonics that have been the band's signature since 1994's Burn My Eyes. Phil Demmel and Robb Flynn's guitars weave in and out of polyrhythmic battering and Iron Maiden-style dual harmonies. It's as if Machine Head effectively bridge the gap between classically-tinged '80s brilliance and early '90s groove domination with a forward-thinking fury that's distinctly their own. Then the solo mid-song kicks in and effectively burns through all psyches with a flurry of notes and impenetrable technicality.

The madness subsides mid-song during one of Flynn's most poignant and poetic vocal bridges to date. His voice sounds heavenly heavy as an ethereal lead line carries it off past the river Styx and into oblivion. He sings, "Faith appears and holds a candle. Hark the angels sing", and it's utterly chilling.

The floodgates open on the refrain which has the power to set off entire stadiums, blending a bone-crushing stomp with an unforgettable chant. Everything culminates on one final crescendo of guitars, drums, and bass, solidifying "Locust" as a modern metal classic.

The locusts descend and heavy music will never be the same. They herald Machine Head's reign as the kings of modern thrash.

—Rick Florino

Listen to "Locust" here:

TakeMyScars.com - A Place Dedicated to the Mighty Machine Head!