MACHINE HEAD NEWS!
February 17, 2016, posted by Crumbs.
Machine Head Forced to Postpone Luxembourg Show Due to Illness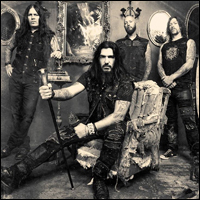 Currently on their final tour of mainland Europe in support of "Bloodstone & Diamonds", metal titans Machine Head have been forced to cancel their February 17th show tomorrow in Luxembourg due to frontman Robb Flynn coming down with an extreme chest infection. Flynn completely lost his voice 5 songs into Machine Head's set in Clermont Ferrand, France last night, and the band are looking into the possibility of rescheduling dates if their are avails.

Machine Head have been performing as "An Evening With", with no opening bands, just a setlist of classic MH tunes for 2 to sometimes 3 hours, and reception to the tour has been staggering with many shows selling out months in advance.

The remaining European dates for "An Evening With Machine Head" are as follows:

19-Feb Reims, FR (*sold out*)
20-Feb Lille, FR (*sold out*)
21-Feb Dortmund, GER (*sold out*)
22-Feb Stuttgart, GER (*sold out*)
24-Feb Frankfurt, GER (*sold out*)
25-Feb Dresden, GER
26-Feb Hannover, GER (*sold out*)
27-Feb Berlin, GER (*sold out*)
29-Feb Tilburg, NL
02-Mar Norwich, UK
03-Mar Nottingham, UK (*sold out*)
05-Mar Belfast, UK (*sold out*)
06-Mar Dublin, IR
08-Mar Manchester, UK (*sold out*)
10-Mar Cardiff, UK
11-Mar London, UK
12-Mar Glasgow, UK


Source: Machine Head
TakeMyScars.com - A Place Dedicated to the Mighty Machine Head!