MACHINE HEAD NEWS!
March 12, 2018, posted by Crumbs.
Machine Head Cancels Four Dates of the Upcoming European Tour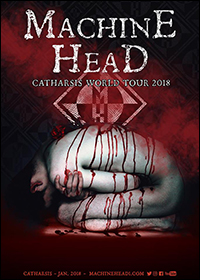 In a statement posted on Live Nation's websites:

In light of ongoing health issues and recent cancellations on our US tour we are having to make some necessary changes to the forthcoming European tour. This coupled with a particularly gruelling tour schedule mean we are unfortunately forced into a situation where we are cancelling some shows in order to preserve Robb's voice so we can complete the tour to the best of our ability. This will ease up on the schedule and make for a workable tour.

Sadly these shows are cancelled rather than being put back to a later date as our forthcoming itinerary does not give us the ability to reschedule. Our sincere apologies to fans who will be disappointed by this and we will endeavour to return at a later date. Refunds for these shows will be via returns to point of purchase.

The cancelled dates are:
Apr 6, 2018 - Valencia, Spain
Apr 11, 2018 - Bologna, Italy
May 3, 2018 - Oslo, Norway
May 26, 2018 - Manchester, England


Source: LiveNation.co.uk
TakeMyScars.com - A Place Dedicated to the Mighty Machine Head!