MACHINE HEAD NEWS!
November 19, 2014, posted by Crumbs
MACHINE HEAD's 'Bloodstone & Diamonds' Debut At #21 In North America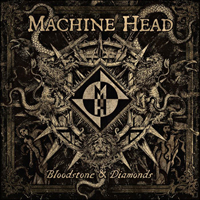 "Bloodstone & Diamonds", the new album from San Francisco Bay area metallers MACHINE HEAD, sold around 18,200 copies in the United States in its first week of release to debut at position No. 21 on The Billboard 200 chart.

The band's previous CD, 2011's "Unto The Locust", opened with around 17,000 units to land at No. 22.

MACHINE HEAD's 2007 effort, "The Blackening", registered a first-week tally of just under 15,000 to enter the chart at No. 54.

The group's 2004 CD, "Through The Ashes Of Empires", premiered with less than 12,000 copies to debut at No. 88.

"Bloodstone & Diamonds" was released on November 10 via Nuclear Blast Entertainment. The CD was produced by MACHINE HEAD frontman Robb Flynn and Juan Urteaga, and like the last seven of eight MACHINE HEAD albums, was masterfully mixed by Colin Richardson. Additional tracking, editing, and mixing was done with Andy Sneap (MEGADETH, EXODUS, TESTAMENT, ARCH ENEMY) and Steve Lagudi.


TakeMyScars.com - A Place Dedicated to the Mighty Machine Head!