MACHINE HEAD NEWS!
June 11, 2011, posted by Crumbs
MACHINE HEAD and SEPULTURA To Join Forces For South American Tour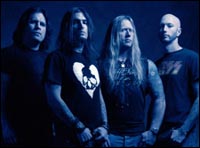 MACHINE HEAD and SEPULTURA will team up for a South American tour in October. The trek will include stops in São Paulo, Brazil (October 14); Curitiba, Brazil (October 15); Porto Alegre, Brazil (October 16); Buenos Aires, Argentina (October 21); and Santiago, Chile (October 23). Venue details will be announced soon.

MACHINE HEAD, which released the back-to-back, modern classics, 2004's "Through the Ashes Of Empires" and 2007's "The Blackening", is aiming to unleash its third masterwork in a row on September 27 via longtime label Roadrunner Records. The as-yet untitled new album is being recorded at JingleTown Studios in Oakland, with frontman Robb Flynn producing, and it is sure to level anything and everything that happens upon its path.

MACHINE HEAD will prepare for the release of their new album by appearing on the main stage of the Rockstar Energy Drink Mayhem Festival for key dates, while headlining the Extreme Stage for others, this summer, which kicks off this July. This is the band's second tour of duty on Mayhem, as they appeared on the festival during its inaugural run in 2008.

SEPULTURA will release its new album, "Kairos" (an ancient Greek word signifying a time in between, a moment of undetermined period of time in which something special happens) on June 24 in Europe and July 12 in North America via Nuclear Blast Records. The artwork for the CD was created by Erich Sayers, a Los Angeles-based freelance digital artist and photographer whom SEPULTURA first met at the band's recent concert at the House Of Blues in West Hollywood, California.



TakeMyScars.com - A Place Dedicated to the Mighty Machine Head!