August 14, 2022, posted by Crumbs.
MACHINE HEAD Plays Surprise Set At U.K.'s BLOODSTOCK OPEN AIR Festival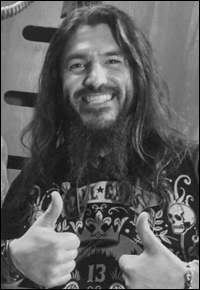 MACHINE HEAD played a surprise set at this year's Bloodstock Open Air festival at Catton Park, Walton-on-Trent, United Kingdom.

On Friday, August 12, three members of MACHINE HEAD — frontman Robb Flynn, bassist Jared MacEachern and drummer Matt Alston — who are in the U.K. rehearsing for their upcoming European tour, played a secret mid-afternoon set on the Sophie Lancaster Stage at the long-running festival.

Polish guitarist Wacław "Vogg" Kiełtyka couldn't join MACHINE HEAD at the show because he was scheduled to perform with DECAPITATED at Czech Republic's Brutal Assault festival the same day.

MACHINE HEAD's setlist included one song from the band's upcoming album, "Of Kingdom And Crown", which will be released on August 26 via Nuclear Blast/Imperium Recordings.


Source: Blabbermouth