MACHINE HEAD NEWS!
July 8, 2008, posted by Crumbs
MACHINE HEAD Covering IRON MAIDEN: Audio Samples Available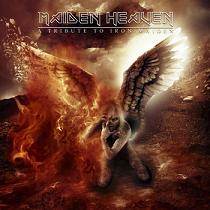 World-exclusive performances from METALLICA, MACHINE HEAD, TRIVIUM, AVENGED SEVENFOLD, DREAM THEATER and DEVILDRIVER are among the tracks featured on Kerrang! magazine's latest collection — "Maiden Heaven" — which features bands covering tracks from IRON MAIDEN's legendary career. The CD will be given away free with Kerrang! issue 1219, on sale July 16.

Speaking exclusively to Kerrang!, METALLICA drummer Lars Ulrich told the magazine how much respect the Bay Area thrashers have for the Brit metal masters.

"IRON MAIDEN are 10 percent cooler than every other band," says Ulrich. "From their relationship with their fans, to their album covers to their stages, to their live presentation, to their photos — whatever they did was always cooler than what everyone else did! I have always had an incredible amount of respect and admiration for them and obviously getting a chance to be part of this CD feels like that has come a full circle. We played 'Remember Tomorrow' as it was basically the blueprint for songs like 'Fade To Black' and 'Welcome Home (Sanitarium)', and some of the more epic ballady type of songs that METALLICA had done later. We had so much fun jamming with this! We put a bit of an intro on it, to give it a bit of a METALLICA stamp, and we are super pleased with how it has turned out. "

MACHINE HEAD frontman Robb Flynn is equally excited to be a part of this project.

"When I was a kid, IRON MAIDEN were a very big deal to me and the influence they had on MACHINE HEAD has been huge," he reveals. "We decided to cover 'Hallowed Be Thy Name' for this CD because it's just such a great song, in fact it's a classic! I just love the way the vocal line goes up and down, so dramatic."

Metal heroes TRIVIUM, are happy to admit their own brand of heavy riffage could never have existed without MAIDEN's worldwide influence.

"IRON MAIDEN helped create what we know as heavy metal," states frontman Matt Heafy. "Their influence can be heard on classic and contemporary bands alike; their fanbase spans across the youngest and newest of heavy music recruits all the way to the diehard, life-long metal elite. We chose to play the track 'Iron Maiden' off their first album, as the song that screamed out our love for them musically, and we knew it would be a really fun song to jam out in the studio. It was an honour to be able to play one of IRON MAIDEN's tracks and have the opportunity to contribute to this amazing CD. We hope everyone has as much fun listening to it as we did making it!"

Meanwhile, AVENGED SEVENFOLD — who will be supporting MAIDEN at their upcoming Twickenham Stadium show on July 5 — say they are "honored" to be part of this Kerrang!-arranged tribute.

"MAIDEN are by far the best live band in the world and their music is timeless," says vocalist M. Shadows. "This also gives us a chance to expose this great song to some of our younger fans who maybe aren't as familiar with IRON MAIDEN."

The arrival of Kerrang!'s "Maiden Heaven" CD coincides with IRON MAIDEN's European leg of their Somewhere Back In Time World Tour — and follows on from the release of their own collection "Somewhere Back In Time: The Best Of 80-89".

"MAIDEN much appreciate and are very flattered by all the time spent on this by a lot of great bands," says IRON MAIDEN's manager Rod Smallwood, "and would like to thank them, and also Kerrang!, for the honour. Thanks, everyone!"

The track listing for "Maiden Heaven" is as follows:

01. BLACK TIDE - Prowler
02. METALLICA - Remember Tomorrow (mp3 clip)
03. AVENGED SEVENFOLD - Flash Of The Blade
04. GLAMOUR OF THE KILL - 2 Minutes To Midnight
05. COHEED AND CAMBRIA - The Trooper
06. DEVILDRIVER - Wasted Years
07. SIGN - Run To The Hills
08. DREAM THEATER - To Tame A Land
09. MADINA LAKE - Caught Somewhere In Time
10. GALLOWS - Wrathchild
11. FIGHTSTAR - Fear Of The Dark
12. MACHINE HEAD - Hallowed Be Thy Name (mp3 clip)
13. TRIVIUM - Iron Maiden (mp3 clip)
14. YEAR LONG DISASTER - Running Free
15. GHOSTLINES - Brave New World


TakeMyScars.com - A Place Dedicated to the Mighty Machine Head!