MACHINE HEAD NEWS!
March 31, 2012, posted by FotherMucker99.
Logan Mader and Robb Flynn interviewed by Red TV Australia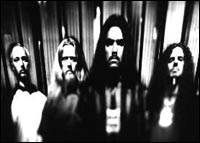 Here's some old interview footage from April 16th 1997 with Logan Mader and Robb Flynn doing some promo work for The More Things Change in Australia.


You can now watch the chat below




Source: Shit i found on VHS youtube
TakeMyScars.com - A Place Dedicated to the Mighty Machine Head!