August 20, 2007, posted by Crumbs.
Interview With DAVE McCLAIN @ Drummersdigest!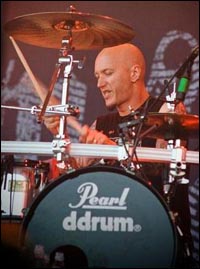 In the trend-sensitive metal scene, few bands manage to stay together, successful and vital for year after year. Along veteran giants such as Metallica or Slayer, Californian quartet Machine Head is certainly one of those bands. After the highly acclaimed debut Burn My Eyes of 1994, the band has released five albums including this year's The Blackening, each being a unique peace of metal music but still very much Machine Head. Current drummer Dave McClain has been with the band since second album The More Things Change, where he replaced Chris Kontos. He has since formed a solid three quarters of the band together with singer/guitarist Robb Flynn and bassist Adam Duce.. I get the opportunity to witness Machine Head live twice in one week; at the one-day Metaltown festival in Gothenburg, Sweden, and at the Roskilde festival in Denmark a few days later. At Metaltown, I get a half-hour conversation with the extremely fast, hard-hitting and technical Dave.

I bump in to Dave just minutes after I arrive at Metaltown while he's strolling around the festival area, looking for "some cool t-shirt". He tells me that he's chatted with Swedish metal veterans Entombed (who have opened for Machine Head on a couple of occasions), and the Stockholm patriots had of course taken the opportunity to bad-mouth second-biggest city Gothenburg. Lots of fans recognize Dave, and he politely takes time to make a little conversation and pose for photos.
A few hours later I sit down with Dave backstage. The Blackening feels to me like the perfect follow-up to Through the Ashes of Empires of 2003, which in many was felt like a come-back after near disaster-like Supercharger of 2001. The Blackening received an almost unanimous praise from both critics and fans, and also won "Best Album" at the prestigious Metal Hammer Awards in June. Dave tells me about the making of the record.
- After Supercharger we were in a rough patch. We were label-less and Phil (Demmel, guitars) hadn't started playing with us full-time yet. We were sending out demos to basically every record label on the planet and felt that we were selling ourselves short and sucking up those people. One day I just said to the other guys "You know what? If we're gonna be a fucking metal band, let's be a fucking metal band!". We decided to go back to playing metal for the same reasons that we all started listening to metal - that it was aggressive and underground. So we started writing song like that, and that's how Through the Ashes...came about. Writing songs that were long, with many different parts and without a simple song-structure, like "Imperium" and "Days Turn Blue To Gray" was great fun, so we decided to take on the same approach for The Blackening.
The whole band has been involved in the song-writing. Although Robb Flynn is a typical front-man, who does take on the main responsibility of putting the songs together, Dave and Phil contribute with riffs and other guitar parts as well, and Adam Duce with lyrics. Influence-wise, Dave's favourites make a pretty odd couple.
- Neil Peart has always been a huge influence for me, but pretty recently I also started listening a lot to Keith Moon. I've always been more like Neil Peart – the kind of drummer who's always in control and plays the exact same thing every night. Keith Moon is the kind of drummer who would probably never play the same thing twice, and I like that too. So I tried to bring both sides out for The Blackening. I think I managed pretty well.

Producers, going out of the lines and running
Anytime you hear a Machine Head song, you will know what band you're dealing with. The guitar and bass sound, the mixing of the vocals and not least the drum sound, they have all been refined over the years to a point where it's unique and also desired within the metal world. Kick, snare and all cymbals, but maybe especially the two splashes are handled brilliantly by Dave, and the sound is like no other drummer's. All albums have been produced and/or mixed by Colin Richardson, except for The Burning Red of 1999, on which the band worked with Ross Robinson and Terry Date. Dave admits that Richardson is a huge contributor to the band's sound a development.
- He really is like a fifth member of the band, and I give him a lot of credit for the drum sound. But he's also gotten a lot of work because of Machine Head. I've always played my own style of drumming. It was like that when I played with Sacred Reich, and when I joined Machine Head it was like a natural fit. I try to play around the songs and the riffs as much as possible and not go out of the lines too much. One of the things that I love about Vinnie Paul's drumming for example is that he never tried to do a lot of stuff, it just sounds awesome anyway, and that's the kind of drummer I try to be. But for The Blackening I tried to go out of the lines a little bit more. I've tried to open myself up to a different style of drumming, to be spontaneous but yet controlled. I still have to know exactly what I'm gonna play when I go in the studio, but the ideas have sometimes been more spontaneous to begin with.
The band has certainly taken on the concept of long songs for The Blackening. Half of the eight songs reach beyond 9 minutes in length, but make no mistake – it's all fast and furious metal, no psychedelic, low-pace intermission parts or anything like that. The live set is opened with the opening track of the record, "Clenching the Fists of Dissent", which lands on 10:36 on the album. How does Dave keep up?
- Before Through the Ashes... I hadn't practiced by myself for a long, long time. The practice that I got used to be simply from playing the songs at practice. But before we started recording Through the Ashes... I began practicing at home for at least a couple of hours every other day, either just soloing or playing along with like a Rush or The Who album. And I go running a lot nowadays. The last year I've been doing like 6 miles every other day, and then I go practice for a couple of hours... I think it's mostly the running that keeps me in shape. It's like it keeps my legs oiled or something, and it's of course good for the overall stamina. Just as building up your chops from practice is of course killer as well.

It's all in your head
Keeping your legs oiled certainly sounds like a good idea when you're playing double bass-drums at Dave's speed. But he still puts the psychological factors on top when it comes to drumming skills. In this realm he has no straight answers and almost gets philosophical.
- I don't know man! In drumming, how good you are is so mental. Because if you're thinking that you're gonna fuck up, you're gonna fuck up. A lot of dudes that I know have certain parts that they play every night and when they come up to those parts, they start thinking like "fuck, I fucked this up last night, I hope I don't mess it up" and they tense it up and go "fuck, I fucked it up again!". And then there's guys like Justin (Foley) of Killswitch Engage, I think he's a robot man! I mean, I don't warm up anymore, but he just goes up there and just flies, always plays perfect. For me it's about trying to be relaxed, but still play hard. But I don't know, it's a crazy thing, this drumming...
So what about injuries, the mortal enemy of any drummer, especially in the demanding metal scene?
- Around The More Things Change I shattered my right kneecap, that wasn't good. It kept me sidelined for about three months. But it was during the mixing of the album, and luckily for me we had to do that twice, so I had time to heal up. But yeah, that was a little scary, looking down and not seeing your kneecap there anymore... Got a kick-ass scar out of the deal though! I know a lot of drummers who get carpel tunnel and stuff like that, but I've been lucky so far. Maybe it's the running, I don't know.
Anyone who's seen Machine Head live can not have avoided noticing Dave's drum-kit, regardless if you're a drummer yourself or not. The kit is basically split in half on stage, with the bass-drums extremely far apart, everything set very low and just the toms in the middle. Dave explains:
- I wish I had some kind of kick-ass technical answer, but to be honest I just wanted to be seen. I'm not a super-visual drummer who's spinning the sticks all the time like Tommy Lee, but I think that my long wing-span makes it look semi-cool when I play. I wanted to make it more visual, so I gradually moved the stuff down, starting with the toms and moving the kicks apart. People think I play with my feet really far apart, but it feels natural to me and it looks cool! I wanted for people to recognize my kit right away, just like you will recognize Vinnie Paul's or Dave Lombardo's.
Dave has some really cool tubes as well. On Metaltown and Roskilde he played a black chrome kit, and he's also got a blue/gray-scale camouflage shell kit. However, we probably won't be seeing those anymore as Dave reveals that he switched manufacturer right before coming to Europe; from Pearl to DDrum.
- I didn't feel like Pearl was using me enough. The equipment was great and everything, but they didn't put me in any ads or anything like that. I saw guys in their ads who couldn't even play a backyard party here in Europe! I felt like I was off their radar, and I don't think I deserve to be off anyone's radar. When I met the guys at DDrum they really knew what they wanted. I've always been really happy with my endorsement from Zildjan, so with the switch of drums it feels really good.

Ups and downs
As mentioned earlier, Dave, Robb and Adam have stuck together for more than ten years now. Phil Demmel is their third guitarist after Logan Mader (Burn My Eyes and The More Things Change) and Ahrue Luster (The Burning Red and Supercharger, now of Ill Niño). The metal scene is known for intra-band controversy, drop-outs and short band life expectancies. So why has Machine Head managed to hang in there?
- We've all pretty much grown up while we've been in the band. We've learned to deal with ourselves and each other. We've all been through a lot of personal stuff that we've had to deal with, and we've grown a lot of respect for each other. But believe me dude; we've had blowout fights! There was a point when we were thinking about bringing somebody in to mediate. We always disagree about things, but you either learn how to deal with that or you don't. I think that's the reason why a lot of bands split up. It's a matter of being mature about stuff and hearing somebody out and having a constructive argument instead of just snapping when there's a disagreement.
But there was a point when the very existence of Machine Head really was on the line.
- I actually did quit the band for about two weeks in between The Burning Red and Supercharger. We were butting heads quite a bit and it got to the point where it looked like nothing was gonna work itself out. And it took me leaving the band to set things straight. It was a huge turning point for us, and ever since then we've been strong.
Ahead for the band after the festivals in Europe is two months much needed vacation. After that the band is heading out once again for the U.S., Japan, Australia and back to Europe. Joining these tours will be bands such as Trivium, Shadows Fall, Dragonforce and on all tours Swedish/German metal aggressors Arch Enemy. Dave reveals that Arch Enemy has been booked to go on tour with Machine Head once before, but that they stood them up the day the tour began! Dave and the others weren't too happy, for Dave not least because he's a fan of Arch Enemy and of Daniel Erlandsson and his drumming. So hopefully Erlandsson, the Amott brothers and the rest of the band won''t make Machine Head disappointed once again... Those of us who will be able to come to the shows are looking forward!


Source: Drummersdigest.com