MACHINE HEAD NEWS!
May 29, 2008, posted by Crumbs.
"Halo" Video Posted Online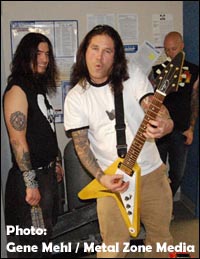 MTV2's Headbanger's Blog is hosting the premiere of MACHINE HEAD's new video, "Halo". The clip, which was filmed on April 3 in San Francisco with director Mike Sloat ("Aesthetics of Hate", "Imperium", "Days Turn Blue to Gray"), was shot entirely in front of a green screen, and the footage was all digitally manipulated to mimic the style of the artwork from the packaging for MACHINE HEAD's new album "The Blackening".

Watch the video here >>

Note: Video stream may not be available to some non-U.S. residents.


Source: Blabbermouth.net
TakeMyScars.com - A Place Dedicated to the Mighty Machine Head!