MACHINE HEAD NEWS!
January 16, 2009, posted by Crumbs
'Guitar Hero: Metallica' Release Date Confirmed!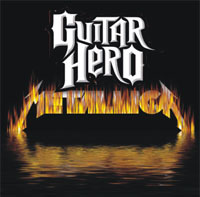 According to a posting on METALLICA's official web site, the Guitar Hero: Metallica game will be released in North America on March 29 for Xbox 360 and Sony Playstation 3. Europeans will get the game in early May. Nintendo Wii and PS2 will follow later in the spring, also most likely in early May.

METALLICA is only the second act to get its own version of Guitar Hero, following last year's AEROSMITH game. METALLICA frontman James Hetfield told The Pulse of Radio some of the reasons why his band has embraced the video game phenomenon. "A lot of kids that maybe wanted to play guitar, or even, especially adults that wanted to play guitar and never did, they're getting a chance to somewhat live a little bit of that in their living room or whatever it is," he said. "And it's a good way to get your music out there. With all the big record stores closing up, getting music to people, it's getting a little limiting. But there are many places, new places to explore, and one of them is Guitar Hero."

METALLICA bassist Robert Trujillo told The Pulse of Radio about the extensive motion-capture process that the band has to go through in order to make them come to life in the game. "We're basically in wetsuits, and you've got all these little tassels, what would be like tassels on your body, that helps trigger the image in the computer," he said. "It's like a performance in a wetsuit, so you're very hot, you're up there, you're headbanging, you're under the lights, but it's a workout. You know, they usually want you to do a song, like, five times or more, so it's a lot of work."

A post at the METALLICA web site revealed that the new game "allows you to play as us in either single instrument or band career game modes in your choice of some famous settings or new venues with in-the-round staging."

The game will include 28 METALLICA songs, as well as tracks from ALICE IN CHAINS, FOO FIGHTERS, QUEEN, MACHINE HEAD and others.

According to gaming site 1UP.com, Guitar Hero: Metallica will include a new difficulty level for drummers, featuring double bass drum pedals, along with new METALLICA guitar tones.

Guitar Hero: Metallica official trailer:

TakeMyScars.com - A Place Dedicated to the Mighty Machine Head!