September 7, 2007, posted by Crumbs.
Disney Forces Venue Switch In Anaheim on September 7th!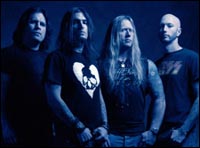 In a stunning last-minute move, Walt Disney Properties have pressured promoter Live Nation into canceling Machine Head's performance tomorrow night at the House of Blues venue in Anaheim (on their Disneyland property). Citing violent imagery, undesirable fans and inflammatory lyrics as the reason, the diversity-impaired corporation began pressuring the promoter on Saturday to cancel all upcoming heavy metal concerts, placing Machine Head under an internal "review process" that took 5 days before bothering to convey their alarming decision to the band late yesterday - less than 48 hours before their Black Tyranny Tour was to kick off at House of Blues Anaheim on Friday night.

While the enactment of this new blanket rule applies to all upcoming heavy metal shows at the House Of Blues Anaheim (with some metal bands having been banned from performing on name alone), Machine Head is the first band to actually have tickets go on sale, and remain on sale for 2 months, before intense pressure and vague threats of liability from the Corporation left the promoter with no choice but to remove the show from the venue.

As a result, Live Nation's Paul McGuigan did the honorable thing and incredibly, on one days notice, managed to salvage the tour's opening night by moving the first date of The Black Tyranny tour (featuring Machine Head, Arch Enemy, Throwdown, and Sanctity) to The Glass House in Pomona, CA (located at 200 W. Second Street). All existing tickets will be redeemable for entry at The Glass House, and all Will Call pickups will now be available for pickup at the new venue. Any fans unable to make the 70-mile trip to The Glass House as a result of this ridiculous turn of events will be able to have their money refunded in full. Strangely, all other Black Tyranny dates at House Of Blues venues on Disney property will remain unaffected.

On behalf of all four bands on the bill, Machine Head wish to extend their gratitude to promoter Paul McGuigan and Live Nation for finding an alternate venue for tomorrow night's show on such short notice.


Source: MachineHead1.com