MACHINE HEAD NEWS!
June 11, 2009, posted by Crumbs.
Dave McClain in benefit to Deftones bassist!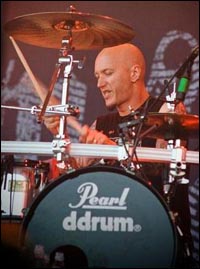 Chi Cheng, bass player in DEFTONES, was seriously injured in an automobile accident in Santa Clara, CA, on November 4, 2008 and the accident left Cheng in a coma.

Long time friend and fellow bassist Reginald "Fieldy" Arvizu has joined forces with KORN drummer Ray Luzier, SLIPKNOT guitarist Jim Root, former KORN axeman Brian "Head" Welch and SEVENDUST's Clint Lowery to record an instrumental song to benefit DEFTONES bassist Chi.

On june 8th, MACHINE HEAD was the main support act to Korn at the Zitadelle in Berlin, Germany. MACHINE HEAD drummer Dave McClain put down drums live in front of the audience for the benefit song. Video is available below.

Dave McClain explains on the official Machine Head message board:
Fieldy asked me if I would put down some drum stuff for the song. He played me a part that he, Ray Luzier (Korn drummer) and Jim Root (Slipknot) had recorded. It was kick ass! He just wanted me to get up and play something in the same tempo and he was gonna ask people in some other bands to record some stuff over it and turn it all into a song.

It was total spur of the moment and we got to do it in front of the audience at the show in Berlin. We had someone go up onstage and explain to the crowd (in German) what we were doing and when he was done, we just went for it!!

Not sure when it will be done, but the song will be available on Korn's website when it IS finished and ALL the money made by the song will go to pay for Chi's medical bills.

I think it's killer that Fieldy is doing this! It was kick ass to be a part of it, and his excitement in getting it done was definitely contagious. It was an honor to do it to and to help out a fellow musician that really needs all of our help and positive thoughts right now.


Source: Frontlines.MachineHead1.com
TakeMyScars.com - A Place Dedicated to the Mighty Machine Head!