MACHINE HEAD NEWS!
September 27, 2011, posted by Crumbs.
Dave McClain Talks Gear and Technique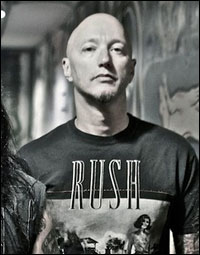 Having spent fifteen years behind the kit for Californian metal icons Machine Head, there are few better people out there to quiz on the ins-and-outs of metal drumming than Dave McClain.

Evidently, it's not just us who thinks so. Our good friends at Roadrunner Records recently set up a rendezvous between McClain and Jack Pritchard, drummer with fast-rising Welsh rockers Revoker - who released their debut album on Roadrunner earlier this year.

Jack took the opportunity to pick-up some drumming tips from a veteran metal sticksman, and you can read the whole conversation below.

In related news, both bands have upcoming UK tours. Also, our friends at Metal Hammer have just released an exclusive special-edition fanpack version of Machine Head's brand new album Unto The Locust. Check out full details and order the fanpack here.

Revoker's Jack Pritchard meets Machine Head's Dave McCain:

Jack: What drum equipment are you currently using?

Dave: Yamaha Oak Custom drums and Yamaha hardware and pedals. 2-22 kicks 14x7 snare 8x6 tom 10x6 tom 12x7 tom 16x16 floor 18x16 floor. All cymbals Zildjian. 2 sets 14-inch new beat hihats. 2-19" Z3 crashes. 1-18" Z3 crash. 6"&10" splash. 21"Mega Bell Ride. 2-19" Z3 chinas.

Jack: How do you prepare before a show?

Dave: Not a whole lot. I have an electronic kit backstage, but it's more of just something to have fun with, like playing along to my iPod. But I really don't have a warm up regiment that I do.

Read the full interview here >>



Source: Musicradar.com
TakeMyScars.com - A Place Dedicated to the Mighty Machine Head!