MACHINE HEAD NEWS!
February 13, 2010, posted by Crumbs.
Dave McClain: 'I Love Country Music'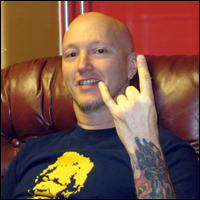 In a recent interview with WalesOnline, MACHINE HEAD drummer Dave McClain stated about the band's headlining "The Black Procession Tour" with hand-picked support from HATEBREED and BLEEDING THROUGH, "We think it's going to be a tour that's as much fun for us as it hopefully is for everyone else.

"A lot of the shows we've done have been opening slots of 30 to 45 minutes, so we're really ready to get out there and do a proper headline show.

"We've been throwing around songs that we either haven't played in a long time or have never at all.

"A really cool thing we loved that METALLICA did when we supported them was to always play some songs different to the night before. We have fans who come out for multiple shows and doing a few songs different to the previous night will help make it more exciting for them — and us."

Regarding the commercial and critical acclaim of the band's latest album, "The Blackening", McClain said, "We've experienced both sides of the coin and this (critical acclaim) is way better than people not liking what you're doing.

"As much as we loved what we did with 'The Blackening', we never thought the tour cycle would last for three years and that we would be main support to our idols METALLICA for a year of that.

"We're getting our just desserts now, and it's been the result of a lot of pain and hard work so it feels even better."

When asked what he listens to in order to escape "The Blackening", McClain replied, "As much as my bandmates hate it, I love country music," he laughed.

"There are a lot of great bands out there and it's a type of music to me that's as much from the heart as a lot of metal. It gives me the same feeling."


Source: Blabbermouth.net
TakeMyScars.com - A Place Dedicated to the Mighty Machine Head!