MACHINE HEAD NEWS!
February 14, 2008, posted by Crumbs.
Dave McClain Misses Wisconsin Shows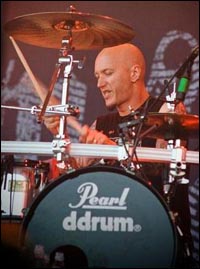 The Machine Head family wishes to extend our deepest condolences and sympathy to the McClain family for the tragic loss of Dave's mother, Mary Douglas. Dave was on the first flight to San Antonio, Texas yesterday so that he could be there with his sister. The resulting circumstances understandably but unfortunately forced the band to cancel Tuesday night's performance on late notice, and Machine Head would like to sincerely thank all of the fans in Green Bay, Wisconsin for their understanding. The band were, however, able to perform tonight (Wednesday night), in La Crosse, WI, once again with the amazing help of their metal brothers, as Mark Castillo from Bury Your Dead, Robb Rivera from Nonpoint and Vinnie Paul from HellYeah all stepped up to help Machine Head perform. Mark Castillo played drums on Imperium, Now I Lay Thee Down and Davidian, Robb Rivera played drums on Aesthetics of Hate and Old, and Vinnie Paul played drums on Halo.

Says vocalist Robb Flynn, "Having just went through a similar situation not 2 months ago, it's really a testament to metal, to see guys and their crews come together like this for another comrade in need... they really fucking brought it tonight for Dave!" Adds guitarist Phil Demmel, "We'd like to thank our friends who filled in admirably in Dave's absence, on 4 hours notice they learned the songs and gave La Crosse a serious ass-kicking". Dave McClain will be returning for the Davenport, IA show this Friday, February 15th, and wishes to extend his sincerest apologies to the fans of Green Bay and La Crosse, he was incredibly moved by the support and wishes from everyone there.


Source: MachineHead1.com
TakeMyScars.com - A Place Dedicated to the Mighty Machine Head!