MACHINE HEAD NEWS!
November 7, 2007, posted by Crumbs.
Black Crusade Tickets Flying Fast!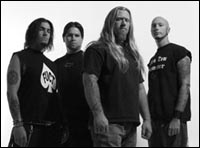 Following hot on the heels of the completely sold out Black Crusade Tour of Australia, tickets to this Fall's massive Black Crusade Tour through Europe and the U.K. are disappearing quickly, with shows in Lille, Dublin, London, Paris and Koln already sold out, with the 2nd shows in Paris and London, as well as Amsterdam, Wiesbaden, and Birmingham about to do the same some time next week. Make sure you get your tickets now, before they're all gone!

In other news, Machine Head's new album "The Blackening" has been nominated for "International Metal Album of the Year" at the Danish Metal Awards, Denmark's equivalent of The Grammys!


Source: Machinehead1.com
TakeMyScars.com - A Place Dedicated to the Mighty Machine Head!