MACHINE HEAD NEWS!
December 9, 2009, posted by Crumbs.
Another New Interview With Robb Flynn Posted Online!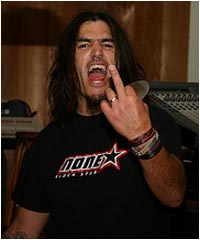 There are studio bands, and there are road bands, and Machine Head is definitely a road band. They've been touring extensively since their 2007 CD The Blackening was released. They've played all over the world, and opened for some legendary bands including Metallica and Slayer. They have a few months left on this touring cycle, and are currently on the road with Megadeth. I caught up with Machine Head frontman Robb Flynn before their show in Charlotte, North Carolina. He talked about some of the highlights of this tour, the timetable for the next album, their upcoming DVD release, and we reminisced about the early days of Bay Area thrash. Flynn is a musician who appreciates those who paved the way and shows them the utmost respect, but is also confident about his band and their extremely bright future.

Chad Bowar: You've been on the road for nearly three years supporting The Blackening. When you look back, what are some of the things you'll remember about this touring cycle?

Robb Flynn: We got to tour with a lot of our idols. We did Slayer and Megadeth, we did six months with Metallica. We headlined Wacken, we headlined the side stage on the Mayhem Festival. There were some huge moments for us. It's the most amount of touring we've ever done. It will be three years when it's all said and done.

During the middle of this touring cycle, the worldwide economy went in the toilet. Have you noticed an effect on your shows and merch sales?
We all thought this was the one area that the economy wouldn't really hit, but this year in particular has just crushed some metal tours. It's been rough. This tour is doing really solid business. It's sold out pretty much every night. What you do notice is that the presales are abysmal. If you were going to gauge the success of this tour by the presales, they are horrible. It's all day of show and walkup sales. I understand. People are struggling. Things are hard everywhere. The fact that anybody wants to come out and see heavy music and that it means that much to them, we are totally stoked about it. It makes us really proud.

You guys have had some personality conflicts in the past. How is the band getting along these days, especially after so much touring?
You throw 10 dudes on a bus for three years, there are going to be some heads butting. We've taken the steps we needed to get through that. We're stronger because of it.

Where haven't you been that you'd still like to get to and play live?
We haven't been to a lot of places. We've never been to Mexico. We've been to Argentina one time, but we've never been to Brazil. I'd love to get down there. We've never played Alaska. We did get to play Russia for the first time. That was awesome.

Read the full interview here >>


Source: Heavymetal.about.com
TakeMyScars.com - A Place Dedicated to the Mighty Machine Head!